Ochieng' Nelly
Profile: Ochieng' Nelly
Ochieng' Nelly was born Nelson Ochieng Orwa in 1943 in South Nyanza. He began playing the guitar in his teenage years after being taught and inspired by the pioneering Congolese Musician Adolf Banyore.
Ochieng' Nelly got his first guitar in 1961. He travelled widely through Uganda, Congo and other African countries. He was widely exposed to Congolese guitar playing styles. He developed his own unique playing style that was later a big influence to the sound of The Ogara Boys Band, and Benga music in general.
Nelly worked with his Congolese mentor for a while before joining The Ogara Boys Band in 1962. The Ogara Boys Band consisting of founding member John Ogara Odondi and Aketch Oyosi was formed in 1960. Together the trio started and developed a unique sound that got the name Benga, in 1963.
In 1966, Nelly left Ogara Boys Band to pursue his career elsewhere. He briefly collaborated with another Benga legend, George Ramogi.
Ochieng' Nelly has produced several songs such as: Monica Abio, Ombua Akelo, Celestine Juma, Samuel Aketch among others.His story is featured extensively in the Ketebul Music produced documentary: Retracing The Benga Rhythm.
Despite his old age and having a limp he got after a rad accident, Ochieng' Nelly remains a very active musician playing a regular venue three times a week in Nairobi's South B estate. He has also recorded an eleven track CD consisting of some of his old hits and new songs at Ketebul Music Studios. The CD recording also features collaborations with his peer from his Ogara Boys days, Aketch Oyosi.
Through Ochieng' Nelly's music, the legend of Beng of the yester years, still lives on.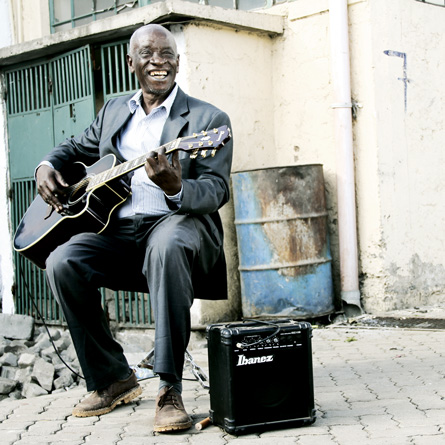 Safari Ya Eriko Mukoyama! Anyango Tours Nairobi
Japanese nyatiti diva, Anyango arrived in Kenya on the 19th of August 2016 on a mission to promote her new album, Anyango: The Safari of Eriko Mukoyama. The visit entailed a number of shows in Nairobi aimed at promoting her brand new album.
Rehearsals Day 1…  A group of multi-talented musicians converged at Ketebul Music Studios to join Anyango in the first step of the journey.
With Kasiva Mutua on percussions,  Ricky Nanjero on bass guitar, Michael Okinyo on the keyboard, Gervais Katumba on drums, Boaz Jagingo playing the orutu; a single-stringed traditional instrument and background vocalist Lydia Ogoti on board… Anyango's new band was complete!
On the 25th of August Anyango had her first show at Thursday Nite Live @ Choices where she wowed the crowd with her brilliant live act.
The four-hour live performance, filled with beautiful nyatiti sounds and the angelic harmonies of Anyango and her band doubled up as the official launch of Anyango's album, Anyango: The Safari of Eriko Mukoyama.
The album consists of 15 songs in total including a collaboration with Kenge Kenge Orutu System, a traditional band from Kenya.
The song entitled 'Anyango Nyar Japan Meets Kenge Kenge' is a song Anyango wrote right after the Fukushima earthquake tragedy in Japan. It is meant to encourage the human spirit of resilience. Kenge Kenge infuse a strong traditional musical element to this song, expressing the same sentiment in Dholuo; a local language from Nyanza, Kenya.
On the 26th of August Anyango performed at the Hideyo Noguchi Africa Prize Reception at The Hilton Hotel in Nairobi.
The Prize is awarded to individuals with outstanding achievements in combating various infectious diseases in Africa or in establishing innovative medical service systems. It is awarded after every five years.
27th of August 2016, Anyango performed at a symposium held for the First Ladies of Africa at the Intercontinental Hotel, Nairobi during the Tokyo International Conference of African Development (TICAD IV)
The event was hosted by H.E. Margaret Kenyatta, First Lady of the Republic of Kenya and H.E Akie Abe, First Lady of Japan.
On 2nd September 2016 Anyango appeared on The Trend Live with Larry Madowo, a live entertainment television show aired every Friday on NTV Kenya. She was interviewed and did a short performance with an all-girl 3-piece band consisting of Kasiva Mutua, Lydia Ogoti and herself.
During the interview Anyango did an impromptu collaboration with Jua Cali, a renowned Kenyan hip-hop artist. Jua Cali rapped impressively over Anyango's nyatiti sound.
To wrap it all up Anyango,s final show was at The Alchemist, Muthurukishion 3: Strings of The East. This went down on the 3rd of September 2016.
This 3rd edition of Muthurikishion featured Anyango who plays the nyatiti as well as DBass Ganun from Tanzania who plays the ganun, both string instruments from East Africa and the Middle East respectively, hence the name 'Strings of The East'.
And if the music is good… You dance!!!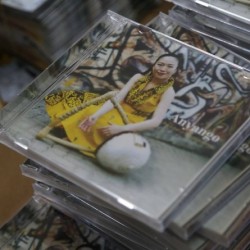 The Last Band Standing! Celebrating 40 Years Of Orchestre Les Mangelepa
Ochestre Les Mangelepa was formed in 1976 in Kenya. Originally hailing from Lumbumbashi in the Democratic Republic of Congo, they first came to Kenya as members of Ocherstre Baba Nationale of Baba Gaston. They derived their name 'Mangelepa' from a dance that had been invented by bandleader, Kabila wa Kabanze Evany while still in Gaston's band. It was inspired by the French 'Marque le pas' (marking time).
Ocherstre Baba Nationale arrived in Dar in 1972 and soon after started recording with the Tanzania Film Company and another company called Sindimba. In 1973 they boarded an OTC bus to Nairobi to record. They recorded "Affaire Zua" and "Mapenzi ya Peremende" at High Fidelity studios. Following differences amongst the ranks, some members led by Kabila wa Kabanze Evany broke off from Orchestre Baba Nationale to form Orchestre Les Mangelepa.
In 1979 Mangelepa landed a tour of Malawi, which resulted in their other hit "Zikomo Malawi," a live recording. When the tour ended they returned to Garden Square in Nairobi, and continued to cut records with EMI, Tobina, Jojo Records, among other labels.
Mangelepa have since recorded Safari ya Mangelepa, Golden Voices album and the DVD, The 33rd Anniversary of Mangelepa with Sound Africa.
In June of 2016, Mangelepa had their first European tour that saw them perform 9 shows in 5 different countries. The tour was organized as a collaboration between No- Nation from the UK and Planet Rock from Germany. They will soon be releasing their 40th anniversary album titled 'Orchestre Les Mangelepa – The Last Band Standing.'
Mangelepa are truly The Last Band Standing and are one of the few bands which feature a full brass section. The  surviving members from the original Mangelepa: Kabila wa Kabanze Evany, Nzazi Kalenga Kibawa Vivy, and Kaniki Lutulu Macky have been joined by younger crop of musicians who are keeping their legacy alive.
Extracted From Shades Of Benga – A Story Of Popular Music In
Kenya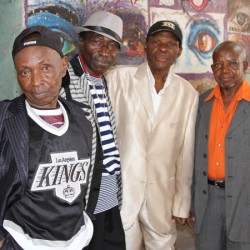 Leo Mkanyia's New Album, Bangili, Set For Release
Leo Mkanyia is a singer, songwriter, composer, arranger and a multi instrumentalist. He plays the xylophone, various percussion and the harmonica, but his instrument of choice is the guitar.  Leo is also a guitar tutor.
Born into a family of musicians, Leo has been playing music for over 20 years. He was first inspired by his father, Henry Mkanyia,  a well-known jazz guitarist in Tanzania who was playing with the legendary DDC Mlimani Park Orchestra when Leo was growing up.
Leo began practicing music when he was eight-years old. He would copy chords by watching his father play, and later steal his father's precious instrument and practice. Though his father never encouraged him to learn the trade, Leo was determined and encouraged by his mother.
It wasn't until Leo was 12 years old that his father found out that the boy was stealing his guitar and had by then learned how to play it. Impressed by Leo's persistence, he finally took his son under his wing and taught him the secrets of the trade.
As they say, the rest is history.
Thereafter, Leo joined several different bands and continued to develop his music and performance. In the process he also learned how to make and play his own percussion like the djembe, tumba and the xylophone.
Leo later decided to develop his own sound and style of music. He travelled around Tanzania researching on traditional dances from different tribes including the Makua, Wayao, Makonde, Gogo, and Sukuma. He discovered that Tanzanian traditional music was rich in rhythm and melody and had a  "bluesy" feel to it. This inspired Leo to develop his own modern style rooted in these traditional sounds but using contemporary arrangements, which he calls, Swahili Blues.
Leo has currently finished recording material for his latest album titled 'Bangili,' produced by Tabu Osusa and recorded at Ketebul Music Studios in Nairobi, Kenya.
The album features several other musicians such as Winyo, Makadem, Juma Setumbi and Nyota Ndogo among others.
Bangili is set for release later this year.