Ochieng' Nelly
Profile: Ochieng' Nelly
Ochieng' Nelly was born Nelson Ochieng Orwa in 1943 in South Nyanza. He began playing the guitar in his teenage years after being taught and inspired by the pioneering Congolese Musician Adolf Banyore.
Ochieng' Nelly got his first guitar in 1961. He travelled widely through Uganda, Congo and other African countries. He was widely exposed to Congolese guitar playing styles. He developed his own unique playing style that was later a big influence to the sound of The Ogara Boys Band, and Benga music in general.
Nelly worked with his Congolese mentor for a while before joining The Ogara Boys Band in 1962. The Ogara Boys Band consisting of founding member John Ogara Odondi and Aketch Oyosi was formed in 1960. Together the trio started and developed a unique sound that got the name Benga, in 1963.
In 1966, Nelly left Ogara Boys Band to pursue his career elsewhere. He briefly collaborated with another Benga legend, George Ramogi.
Ochieng' Nelly has produced several songs such as: Monica Abio, Ombua Akelo, Celestine Juma, Samuel Aketch among others.His story is featured extensively in the Ketebul Music produced documentary: Retracing The Benga Rhythm.
Despite his old age and having a limp he got after a rad accident, Ochieng' Nelly remains a very active musician playing a regular venue three times a week in Nairobi's South B estate. He has also recorded an eleven track CD consisting of some of his old hits and new songs at Ketebul Music Studios. The CD recording also features collaborations with his peer from his Ogara Boys days, Aketch Oyosi.
Through Ochieng' Nelly's music, the legend of Beng of the yester years, still lives on.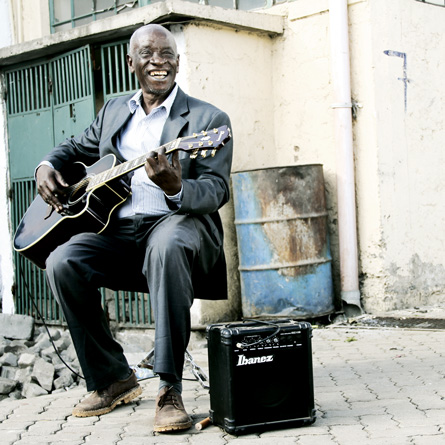 Welcome to Music Monday!
Owing to the fact that it is the first day after the weekend and the beginning of the 'official' work man's week, Monday is normally viewed in sort of a negative light. With terms like 'Monday Blues,' in reference to having to get over the effects of an easy going weekend, Mondays are dreaded by both young and old be it in school or the work place.
Well, in an effort to break the 'Monday Blues' stigma, and to give you a positive outlook to the day, we would like to welcome you to Musical Monday(s)!
We will be featuring stories, music and profiles of musicians and artistes that we like. This will not be a critics review, but just us pointing out the music we like: more like a musical compass pointing you out to the 'right' direction from our perspective.
To start us off this Monday, we will feature the group Sarabi.
Sarabi is Swahili for Mirage. It also means, Imagination, Vision and Creation. They describe their music as a vivid representation of our society, and influenced by the everyday happenings. It features traditional Kenyan rhythms, Benga and a blend of Western sounds.
Sarabi was formed in 2005 and has in the recent years emerged as one of the most exciting and sought after bands in Kenya. The Band is made up of 8 young men, hailing from the Eastlands area of Nairobi, who started playing music before they were even teenagers. They have worked together and grown into an accomplished and solid band, with very high levels of professionalism, that is sometimes lacking in bands who are even twice their age.
They have been described by the press as "The next force in Kenyan music," (Drum Magazine, Oct 2007) and as being "The new face of AFRO-Fusion in Kenya" (BUZZ Magazine, August 2013).
Sarabi released their debut album titled "OYAORE"- A new beginning in July 2013.
They will be on stage this Friday the 31st of January 2014, performing at the launch of Ketebul Music's Retracing Kenya's Songs of Protest.

Be sure to join us and catch Sarabi live on stage where they will perform Fwata Sheria among other of their popular songs.
CLICK HERE for more on Sarabi
CLICK HERE for more on Retracing Kenya's Songs of Protest

CLICK HERE for details on Retracing Kenya's Songs of Protest launch concert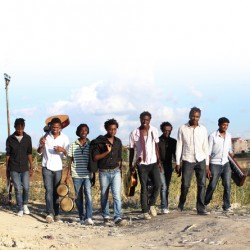 Welcome to Throwback Thursday!
Welcome to Throwback Thursday!
We dedicate our Thursdays to reviewing and revisiting our past projects, events and generally things we have been involved in.
Today, as we are gearing up to release our latest edition of the Retracing series titled Retracing Kenya's Songs of Protest, we shall revisit one of the earlier editions in the series: Retracing Kikuyu Popular Music.
Retracing Kikuyu Popular Music is the 2nd edition in the Retracing series. It was officially released on Friday 17 December, 2010. The launch was held at Alliance Francaise de Nairobi and included a concert that featured performances by non other than the legendary musicians Joseph Kamaru and DK Mwai.

The project traced the roots of Mugithi and aimed at answering the following questions:
Why did Gospel music become such a big part of Kikuyu popular music?
Is it true that there is a Jim Reeves, Don Williams or Kenny Rodgers cassette in the home of every music-loving Kikuyu?
Why is it that amongst the Kikuyu rural elite and urban middle-class, one of the nicknames given to a fast-talking know-it-all is "Jimmie Rodger?"
How did the name of the American "father of country music" – Jimmie Rodgers – come to be inscribed in the spoken idiom of the Kikuyu of the 21st Century? Why does Kikuyu urban guitar music carry the riffs of American country music?
Why do virtually all Kikuyu popular musicians wear American Stetson hats and Denim suits, and occasionally, a leather jacket and studded belt?
Retracing Kikuyu Popular Music takes a journey into the roots of Kikuyu music tries to answer these and many other questions. The answers may not be straightforward but in trying to unlock the riddles, Ketebul Music avails part of the archive of Kikuyu popular music in new and accessible formats.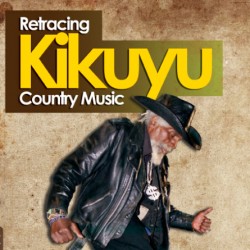 Retracing Kenya's Songs of Protest, Preview & Prelaunch Concert
Ketebul Music releases its most recent compilation in the popular 'Retracing series.'

This latest compilation '
Retracing Kenya's Songs of Protest
(1963-2013)' chronicles the contribution of generations of Kenyan musicians in the movement for social and political reform.
It celebrates 'protest' music and those who make it: music that plays an important role in highlighting injustices and the visionaries whose creative spirit and sacrifice makes social change possible.
The project is supported by the Ford Foundation Office For Eastern Africa.
In conjunction with the Alliance Française, Ketebul Music will air a preview of the documentary contained in this multimedia package, which also comes with a narrative booklet and an audio CD compilation of recent protest music, at the Alliance Francaise de Nairobi gardens.
This will be followed by a concert featuring performances by Just A Band, Sarabi, Juliani, Eric Wainaina and Ohanglaman Makadem.

This event will be hosted by John Sibi-Okumu.
Entry is absolutely FREE!
The multimedia package will be on sale at a one time special collectors introductory price of KES 1,000/= ONLY! After that, prices revert to the usual KES 3,000/= price of the Retracing Series collection.
Unsung Heroes Photo Exhibition
In the weeks preceding the launch of this multimedia package, Ketebul Music will hold a photographic exhibition at the Alliance Francaise de Nairobi lobby.
The pictures in this exhibition are a culmination of research and archiving carried out by Ketebul Music over a period of seven years as part of the Retracing Kenyan Music series.This photo exhibition, produced with the support of the Kenya Music Week, pays tribute to musicians who have shaped the various genres of music in Kenya, and influenced our social psyche over the past five decades.

The "50 Years of Kenyan Music" photo exhibition made its debut at the 10th Annual KENYA MUSIC WEEK which took place at the Sarit Centre Expo Hall from; Thursday 12th to Sunday 15th December 2013 as part of Kenya @ 50 Celebrations, and plans to tour the Country for the next 12 months.