Ochieng' Nelly
Profile: Ochieng' Nelly
Ochieng' Nelly was born Nelson Ochieng Orwa in 1943 in South Nyanza. He began playing the guitar in his teenage years after being taught and inspired by the pioneering Congolese Musician Adolf Banyore.
Ochieng' Nelly got his first guitar in 1961. He travelled widely through Uganda, Congo and other African countries. He was widely exposed to Congolese guitar playing styles. He developed his own unique playing style that was later a big influence to the sound of The Ogara Boys Band, and Benga music in general.
Nelly worked with his Congolese mentor for a while before joining The Ogara Boys Band in 1962. The Ogara Boys Band consisting of founding member John Ogara Odondi and Aketch Oyosi was formed in 1960. Together the trio started and developed a unique sound that got the name Benga, in 1963.
In 1966, Nelly left Ogara Boys Band to pursue his career elsewhere. He briefly collaborated with another Benga legend, George Ramogi.
Ochieng' Nelly has produced several songs such as: Monica Abio, Ombua Akelo, Celestine Juma, Samuel Aketch among others.His story is featured extensively in the Ketebul Music produced documentary: Retracing The Benga Rhythm.
Despite his old age and having a limp he got after a rad accident, Ochieng' Nelly remains a very active musician playing a regular venue three times a week in Nairobi's South B estate. He has also recorded an eleven track CD consisting of some of his old hits and new songs at Ketebul Music Studios. The CD recording also features collaborations with his peer from his Ogara Boys days, Aketch Oyosi.
Through Ochieng' Nelly's music, the legend of Beng of the yester years, still lives on.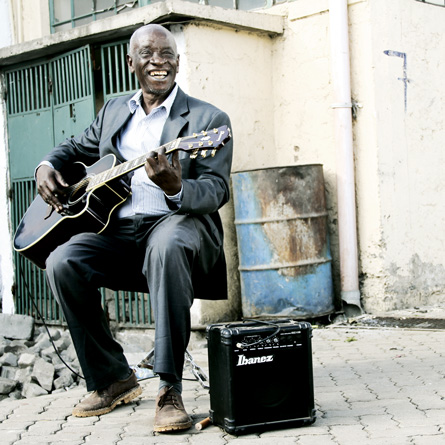 Ketebul Music Founder and Executive Director Tabu Osusa Appointed As Country Representative For Visa For Music
Ketebul Music Founding Director Mr. Tabu Osusa has been appointed as the Country Representative for Kenya in the third edition of Visa For Music (VFM) which will be held from the 16th to 19th of November 2016 in Rabat, Morocco.
Visa For Music is an annual Africa Middle East Music Meeting whose aim is to foster the development of a music market in Africa & the Middle East, highlight emerging artists, offer a suitable environment for creativity and mobility and contribute to the structure of the cultural and artistic sector.
As Country Representative, Tabu Osusa will  enhance Visa For Music's operational activities in Kenya, maintain and improve relationships with stakeholders in music, media, culture and government sectors  as well as help improve productivity, efficiency and surpass VFM's goals.
The meeting serves as an essential and major meeting place for professionals of the music industry at large.
Key objectives of Visa For Music include:
Supporting export of musical creation from Morocco, Africa and the Middle East towards Europe and Northern markets
Professionalizing and guiding artists of the region, to promote artistic mobility and help improve artists' status in Southern countries
Arousing awareness on the role of the musical stage in the socio-economic development process and in the promotion of peace and regional integration
Setting up North-South and South-South inter-professional meetings to develop new markets with all kinds of musical productions (traditional and modern music)
Fostering the professionalization of the sector through the development of structures representing artists and and boosting the development of creative structures in order to stimulate the musical sector
Heading the musical sector towards new challenges of regional and international dimensions through seminars, training and expertise exchanges with professionals of the world.
Accreditations are currently open!!!
Artists, journalists and professionals can ask for their accreditation via  Visa For Music Accreditation
People and organizations who are interested can also book their stand on the Visa For Music  website by following the link,  Visa For Music Stand Booking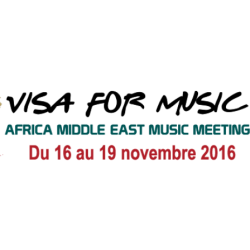 Ketebul Music Signs Deal With Anyango nyar Japan
According to the Luo community of Western Kenya, the name Anyango is given to a girl born in the morning, usually around 10 am. Eriko Mukoyama, a young Japanese artiste and the first female nyatiti player in the world identifies with this name, and is so known by her fans. She was given the name by her nyatiti master, Okumu K'Orengo. It just happens that she was actually born in the morning!
Over the years Anyango has been closely associated with Ketebul Music, both socially and business-wise. Apart from her beautiful voice and her incredible nyatiti playing skills, she possesses a lively and jovial spirit, always surprising people by her ability to speak Swahili and Luo.
On the 16th of February 2016, Anyango paid us yet another visit. This time, the aim was to sign a distribution contract with our organization. This basically makes Ketebul Music her official agents in Eastern Africa. Ketebul Music is now Anyango's official representative and distributor in Eastern Africa.
During her visit we also worked on a compilation called Anyango! The Safari of Eriko Mukayama. This compilation comprises 15 songs, 2 of which are new, recorded at Ketebul Music Studios in 2015.
One of the two songs features Kenge Kenge, a traditional band from the Luo community. The band is made up of young musicians singing in the benga rhythm.
Anyango will be coming back to Kenya mid this year for a series of shows to promote the new album.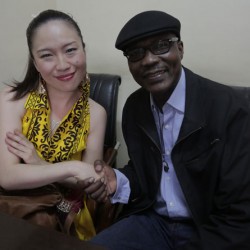 Tribute to the Late Jackton Malenya
We at Ketebul Music, wish to pay tribute to the legendary Jackton Malenya who died on the 13th of March, 2016. Mr Malenya met his tragic death when he was assaulted by unknown people on his way home late that evening. He is well known for the hit song "Mtoto si Nguo" which he sang with George Mukabi. The song was recorded in the 1960s.
Malenya was buried on the 29th of March in Buyangu, Bunyore in Vihiga County.
For those of you who don't know about this Legend, here is a little more you need to know…
Jacktone Malenya was born in Kisa West in Kakamega, Western Kenya. Malenya's father was a reverend in the Church of God, Kima Mission. He encouraged Malenya to join the church choir, where he learnt to play the guitar. However, he discouraged his son from joining a band. Soon after, Malenya teamed up with a childhood friend who hailed from the same neighborhood, George Mukabi, and they secretly started experimenting with secular music.
In 1957 they decided to move to Nairobi in search of new opportunities. Within that same year they found work with the East African Railways, Malenya working in the supplies department while Mukabi worked as an office messenger at the Railways Training School. Since they were both allocated houses at the Railways staff quarters in Makongeni estate it became convenient for them to meet and practice at the Makongeni Social Hall.
Malenya, who had better education than Mukabi, composed and wrote most of their initial compositions, with Mukabi playing the lone guitar.
Their first record, 'Kweli Ndugu Sikilizeni', with 'Sengula' on the flip side, was cut at African Gramophone Stores (AGS) studios in River Road in 1957. Their main competitors were the Jambo Boys, made up of Fundi Konde, Daudi Kabaka, Edouard Masengo and Fadhili William. Subsequent recordings were made at AP Chandarana, CMS, Andrew Crawford and a few other studios around town.
The duo achieved a lot of success with their music until tragedy struck in 1963, when Mukabi succumbed to wounds he received during a violent confrontation with his in-laws in Kakamega. After Mukabi's death Malenya teamed up with his cousin Peter Akwabi, who was then a student at Butere Boys School, and continued recording. But just like Mukabi, Malenya's life ended tragically when he was attacked by unknown people on his way home late that evening.