Ochieng' Nelly
Profile: Ochieng' Nelly
Ochieng' Nelly was born Nelson Ochieng Orwa in 1943 in South Nyanza. He began playing the guitar in his teenage years after being taught and inspired by the pioneering Congolese Musician Adolf Banyore.
Ochieng' Nelly got his first guitar in 1961. He travelled widely through Uganda, Congo and other African countries. He was widely exposed to Congolese guitar playing styles. He developed his own unique playing style that was later a big influence to the sound of The Ogara Boys Band, and Benga music in general.
Nelly worked with his Congolese mentor for a while before joining The Ogara Boys Band in 1962. The Ogara Boys Band consisting of founding member John Ogara Odondi and Aketch Oyosi was formed in 1960. Together the trio started and developed a unique sound that got the name Benga, in 1963.
In 1966, Nelly left Ogara Boys Band to pursue his career elsewhere. He briefly collaborated with another Benga legend, George Ramogi.
Ochieng' Nelly has produced several songs such as: Monica Abio, Ombua Akelo, Celestine Juma, Samuel Aketch among others.His story is featured extensively in the Ketebul Music produced documentary: Retracing The Benga Rhythm.
Despite his old age and having a limp he got after a rad accident, Ochieng' Nelly remains a very active musician playing a regular venue three times a week in Nairobi's South B estate. He has also recorded an eleven track CD consisting of some of his old hits and new songs at Ketebul Music Studios. The CD recording also features collaborations with his peer from his Ogara Boys days, Aketch Oyosi.
Through Ochieng' Nelly's music, the legend of Beng of the yester years, still lives on.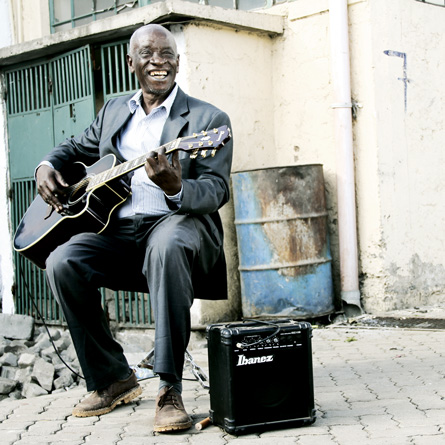 Shades of Benga: The Story of Popular Music in Kenya
We recently released our long awaited publication, Shades of Benga: The Story of Popular Music in Kenya 1946 -2016. The 652 page book was launched at an event preceded by a photo exhibition, of pictures extracted from the book, at the Alliance Française de Nairobi on 12 July 2017.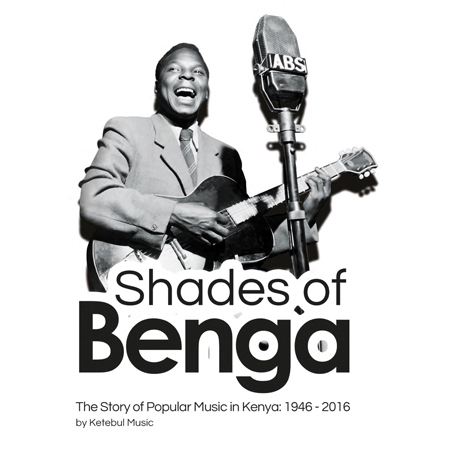 This was followed by a presentation by the books principal authors, Ketebul Music Founding Director Tabu Osusa and Bill Odidi. They discussed the concept behind the book and gave an overview on topics covered in the 14 chapter publication.
The launch culminated with performances by some of the pioneering musicians whose profiles can be found in the book: John Nzenze & Peter Akwabi, and Ochestre Les Mangelepa.
Shades of Benga: The Story of Popular Music in Kenya delves into the foundations of modern Kenyan music, examining external influences from the English waltz to Afro Cuban Rumba and how they helped mould new music styles across Africa. Rumba was brought to Eastern Africa via the itinerant Congolese musicians Edouard Masengo and Jean Bosco Mwenda who's intricate guitar-picking styles largely shaped the present Kenyan sound, with the Benga playing a dominant role.
Currently, you can get advance copies from Ketebul Music Studios or place your order.
#shadesofbenga
#legendarykenyans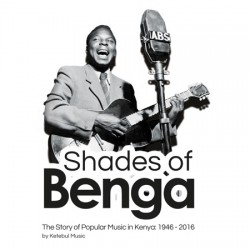 THE CALL FOR APPLICATIONS FOR VISA FOR MUSIC 2017 IS NOW OPEN!
The call for applications for the 4th edition of Visa For Music is now open! This year, the professional music market for African and Middle-Eastern music will be held 22-25 November 2017 in Rabat, Morocco.
Artists and bands have the possibility to apply to have the chance of being selected and perform in front of thousands of music professionals who come to the Kingdom's capital to discover the talents of our territories. Everyone can apply including those who applied for previous editions and were not selected. The call for applications for the showcase program is open until April 15, 2017.
After the call for application has closed, 30 artists or bands will be selected by a qualified jury of music industry professionals who represent different musical aesthetics and the concerned regions (West Africa, East Africa, Portuguese-speaking Africa, North Africa, Middle East). To ensure diversity in the selection of the artists programmed for Visa For Music, jurors come from diverse horizons.
Information available at www.visaformusic.com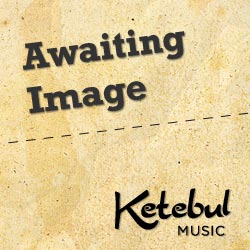 Ketebul Music Founding Director Tabu Osusa Nominated as One Of The IMC Five Music Rights Champions
Ketebul Music Founding Director Tabu Osusa has been nominated as one of the IMC Five Music Rights Champions.
Mr Osusa was nominated alongside Dame Evelyn Glennie, a Scottish percussionist and the first person in history to successfully create and sustain a full-time career as a solo percussionist  and  Ramy Essam an Egyptian musician known for his appearances in Tahrir Square in Cairo during the Egyptian Revolution of 2011.
The International Music Council (IMC) was  founded under the UNESCO chatter in 1949 and is the world's leading membership-based professional organization dedicated to the promotion of the value of music in the lives of all peoples.
The core values of the International Music Council are embodied in a set of Five Music Rights,
First Right – Musical Expression for all:
'For all children and adults to express themselves musically in all freedom'
Second Right – Musical Education for all:
'For all children and adults to learn musical languages and skills'
Third Right – Musical Involvement for all:
'For all children and adults to have access to musical involvement through participation, listening, creation and information'
Fourth Right – Opportunities for Musical Artists:
'For all musical artists to develop their artistry and communicate through all media, with proper facilities at their disposal'
Fifth Right – Recognition for Musical Artists:
'For all musical artists to obtain just recognition and remuneration for their work'
15 years after the proclamation of these rights, the IMC gives new impetus to their promotion by appointing IMC Five Music Rights Champions, with the purpose of increasing the visibility of these core values and putting them 'on the radar' of musicians and music-lovers around the world.
Tabu Osusa is a key player in the East African music industry. He is the Founding Executive Director of Ketebul Music and for the last 30 years has been involved in the music industry as a promoter, producer, composer and band manager.
In his words: "I feel that the fourth right is the most fundamental because it touches on the basic need to promote the diverse musical traditions of the world and at the same time giving all the artists an equal opportunity to be heard and promoted within a global platform."