Ochieng' Nelly
Profile: Ochieng' Nelly
Ochieng' Nelly was born Nelson Ochieng Orwa in 1943 in South Nyanza. He began playing the guitar in his teenage years after being taught and inspired by the pioneering Congolese Musician Adolf Banyore.
Ochieng' Nelly got his first guitar in 1961. He travelled widely through Uganda, Congo and other African countries. He was widely exposed to Congolese guitar playing styles. He developed his own unique playing style that was later a big influence to the sound of The Ogara Boys Band, and Benga music in general.
Nelly worked with his Congolese mentor for a while before joining The Ogara Boys Band in 1962. The Ogara Boys Band consisting of founding member John Ogara Odondi and Aketch Oyosi was formed in 1960. Together the trio started and developed a unique sound that got the name Benga, in 1963.
In 1966, Nelly left Ogara Boys Band to pursue his career elsewhere. He briefly collaborated with another Benga legend, George Ramogi.
Ochieng' Nelly has produced several songs such as: Monica Abio, Ombua Akelo, Celestine Juma, Samuel Aketch among others.His story is featured extensively in the Ketebul Music produced documentary: Retracing The Benga Rhythm.
Despite his old age and having a limp he got after a rad accident, Ochieng' Nelly remains a very active musician playing a regular venue three times a week in Nairobi's South B estate. He has also recorded an eleven track CD consisting of some of his old hits and new songs at Ketebul Music Studios. The CD recording also features collaborations with his peer from his Ogara Boys days, Aketch Oyosi.
Through Ochieng' Nelly's music, the legend of Beng of the yester years, still lives on.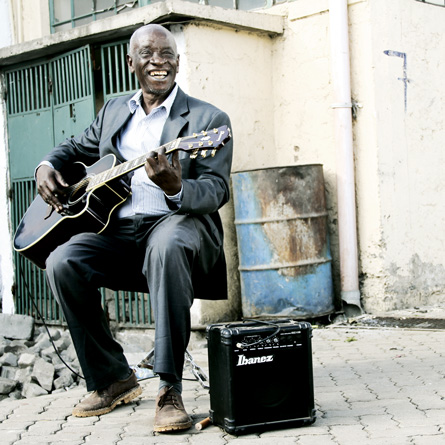 Ketebul Music Partners with Music In Africa in a Promotional Video
Music In Africa is an information and exchange web portal dedicated to the African music sector. The portal responds to the need for reliable information and networking between music professionals in Africa. It also aims to contribute towards improved collaboration among artistes on an international level, as well as to enhance awareness of African music scenes.
In an effort to adequately meet the needs of artistes in East Africa,  Music In Africa has teamed up with Ketebul Music to create  a video documentation  on their challenges and needs.  The focus will be on highlighting the various areas that the Music In Africa portal has and how it can benefit musicians and professionals working in the music sector.
This is the second video following a similar one that Music In Africa created for the West African region. https://www.youtube.com/watch?v=wdJC4gJGu3U
The Ketebul Music crew has been on the road from Nairobi to Dar es Salaam to Kampala, interviewing artistes and professionals in the East African music industry for the promotional video.  The targeted artistes include Joel Sebunjo, Legend P, Akello and Giovanni Kiyingi from Uganda, Leo Mkanyia and Ben Paul from Tanzania and Makadem, Kidum, Avril and Habida from Kenya.
Joel Sebunjo is one of Uganda's best young folk/world music artistes. He is celebrated all over East Africa for his talent. He has also traveled globally and performed alongside legendary artistes like Yossou N'dour, Salif Keita, Miriam Makeba, Oliver Mtukudzi and many more.
Stay tuned for updates from Ketebul Music and Music In Africa on the future of African Music!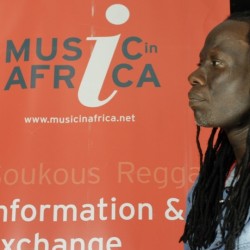 The Spotlight On Kenyan Music 10th Year Anniversary Celebrations
The Spotlight on Kenyan Music Programme marked its 10 year anniversary with a colourful concert held at the Kenyatta International Convention Centre in Nairobi Kenya, last weekend on the 19th and 20th of September 2015. The concert coincided with the Total Motor show, which is a major motor show event in East and Central Africa.
Spotlight on Kenyan Music is a cultural music programme initiated by the Alliance Française in 2005 in partnership with Ketebul Music, with the support of the Embassy of France in Kenya, Total Kenya Ltd, and the Department of Culture.
The concert featured spotlight selected Spotlight artistes such as Lelele Afrika, Juma Tutu, Makadem, Mzee Mwatela and Gargar among others.
On Saturday afternoon the show kicked off with a great performance by Walter Koga, a nyatiti player from Nyakach, Nyanza. He was followed by Mutinda, who is part of the first crop of the spotlight on Kenyan music volume 1, with his song 'Matopeni.' His song 'Simama' also saw him win the International Song Writing Competition.
Next on line was Mzee Mwatela, a renowned percussionist hailing from the coastal town of Malindi. He is featured in the Spotlight On Kenyan Music volume 6 compilation.
The audience was amazed by the mellow voice of Winyo who, though not a Spotlight artiste but a good friend of Alliance Française. Winyo was twice  nominated for the Radio Funds International Discoveries Award and is a beneficiary of the Institut Français.
Makadem, also known as the Ohanglaman or Mganga Mkuu (the great healer) wrapped it all up with a high energy performance which had the crowd on their feet and left them yearning for more. His song 'Nyar Nairobi' is featured in the 1st volume of the Spotlight On Kenyan Music compilation.
As a continuation to the celebrations, on Sunday, Mohammed Guyo from Marsabit opened the stage in style with Lelele Africa stepping in after him. Mohamed Guyo is featured in the Spotlight on Kenyan Music volume 5 compilation, which focused on music from Northern Kenya. Lelele Africa is a band made up of veteran Taarab musicians and are one of the few remaining groups that still play the  old style taarab music. They were featured in the volume 6 compilation.
Next on stage was Chepchumba from the Rift valley, featured in the volume 3 compilation. She was then followed by Juma Tutu, a Swahili jazz  musician whose song titled 'Sukari' was featured in the volume 1 compilation, going on to become became a runaway hit in Kenya.
The performances went on with Ontiri Bikundo from Kisii, whose song titled 'Speed Governor,' a call for responsible sexual behaviour, appears on  the Spotlight On Kenyan Music volume 2 compilation.
Gargar, a group  made up of Kenyan women of Somali origin from Garissa, North Eastern Kenya, were next on stage after Ontiri Bikundo. They are one of the major success stories from the Spotlight On Kenyan Music programme, having travelled to perform and showcase in numerous countries internationally. They are the only group that has been featured in two Spotlight On Kenyan Music compilations, the first being volume 4 with their song 'Aids Wadila' and the second 'Shicir' in the volume 5 compilation.
Sarabi are not Spotlight on Kenyan music artistes but in an effort to support young Kenyan talent, they too were invited to perform. They will be performing on Friday, 24th of September 2015, at the Alliance Française gardens in a show that seeks to raise funds for their upcoming trip to Budapest where they will showcase at WOMEX.
The event was also used to launch Spotlight On Kenyan Music Videos that had been shot and produced by Ketebul Music over a four month period, between May and August 2015.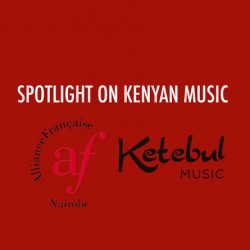 Meet Anyango, Nyar Siaya. The Nyatiti Diva from Japan!
In 2005, a young Japanese lady by the name Eriko Mukoyama visited Kenya and spent close to a year in a village in Western Kenya learning how to play the nyatiti, becoming the first female nyatiti player in the world. The nyatiti is an eight-stringed lyre of the Luo community.
Today Anyango, as she is now known internationally,  has mastered the nyatiti and plays at concerts all around the world.
Recently the Japanese musician visited Ketebul Music studios. During her visit, Anyango signed a deal with Ketebul Music that will see the label release and distribute her music in the region. She also recorded a number of songs with Kenge Kenge and Makadem, which will be featured in a compilation album to be released by Ketebul Music.
For those of you who do not know about this extraordinary artiste, she was born in Tokyo in 1981. While in her third year at the university of Tokyo, she decided to go to New York to study music. The day was September 11th, 2001. It was the day terrorists struck in New York and Washington. Her flight was cancelled and she had to return to Japan. While in Japan, Anyango attended the Kenyan traditional concert in Tokyo and the music at the concert changed her life. She later joined an African band called Burukenge and spent a year touring around Japan.
Her interest in African music led her to Kenya where she learned how to play the nyatiti under the instruction of the late nyatiti maestro, Okumu K'Orengo, from the village of Karapul near Lake Victoria.