Ogoya Nengo: Sauti za Busara 2012 Summary
By Stefano Sita Nne
After a week of rehearsal at Alliance Francaise with her 8 piece band, Ogoya Nengo finally jetted into Zanzibar on the 9th of February. Despite the high temperatures that they were not accustomed to, the group was in high spirits rearing to get on stage and give a dose of Dodo and Ohangla Music.
The following morning, the group which comprised of Ogoya Nengo on lead vocals, Olith Ratego, Margaret Ondiege Asin and Wilfrida Anyango on support vocals, Joseph Oloo aka Maumbo on ohangla, Boaz Aketch on Orutu, George Achieng' on drums, Tobias Onyango on traditional drums and Joseph Ojung'a on the oporo (horn), were up bright and early and ready for their scheduled soundcheck at Ngome Kongwe (the Old Fort) in Stonetown, the venue of Sauti za Busara Festival 2012.
Fast forward to showtime later that evening at 8.20pm, Ogoya Nengo's powerful vocals reverberated accross the fort's walls, to the delight and applause from the crowd after each and every song.

At one point, Camirata Group from Northern Sudan who had peformed the previous night, were so impressed by Ogoya Nengo's performance that they jumped on stage and danced along with Ogoya Nengo.
At the end of her set, Ogoya walked off the stage to another roar of applause from the audience.

Ogoya Nengo had a day to explore and discover Zanzibar before taking her flight back to Nairobi on the 12th of February.
Featured photos courtesy Ketebul Music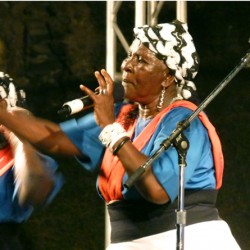 Ogoya Nengo For Sauti za Busara Festival
By Stefano
Ogoya Nengo, the matriach of Ketebul Music will be gracing the stage at Ngome Kongwe in Stone Town, Zanzibar during the Sauti za Busara Festival.
Ogoya who is no stranger to performing at international stages will be taking the stage on the 10th of February accompanied by her long time collaborators Margaret Asin, Wilfrida Owit and Olith Ratego and a 6piece band which will include famed kenge Kenge orutu player, George Achieng' and Ohangla drum maestro Maumbo.

She will perform and showcase music from her debut studio CD titled Matatu, which features songs done in the dodo style from the lake region of Kenya.
You can catch up with Ogoya and her band on the 10th of February from 8.20pm.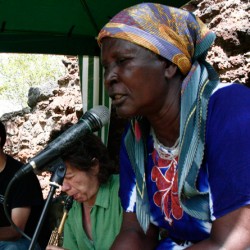 Ogoya Nengo (The priced one) Featured in The Standard
The Standard newspaper recently featured a story on Ogoya Nengo

in their Eve Woman magaazine.
To read more of this feature, please visit the link below.Ogoya Nengo: A music star at 70