Ketebul Music at Utam Festival
Ketebul Music artists Olith Ratego and Makadem performed at the premiere edition of Utam Festival last weekend, 29th of November 2015.  UTAM FESTIVAL is a Kenyan Annual Multi-Cultural Music Festival that gives a platform for global cultural integration using art. The aim of the festival is to showcase, expose and share East African arts and culture to the world.
The event kicked off at 2.30 pm with a brilliant performance by Olith Ratego, who wowed the crowd with his singing skills. Olith played his signature home-made instrument known as the 'kodo'. He told melodic stories in his music and invited the crowd to journey with him into his musical world.
Makadem, also known as Mganga Mkuu, with his charismatic persona and powerful vocal delivery as always had the crowd on their feet. He not only sang to his audience but fully engaged with them throughout his performance.
Several other artists from East Africa such as Ricky Na Marafiki, Wangechi, Sarakasi Dancers, Teto Tutuma, Tetu Shani, Giovanni Kiyingi from Uganda, Swahili Ally from Tanzania, and Ugandan Saxophonist Brian Mugenyi among others were also present and showcased their best.
From poetry to music to dance… The festival was a blissful blend of art.
The little ones were not left behind…
The festival offered a cocktail of music, diverse cultures and a beautiful coexistence between different people brought together by their mutual love for music. As the famous Youssou N'Dour once said, "Music is a language"
Photo credits: Quaint Photography.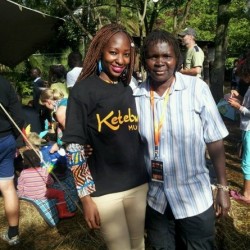 Ketebul Music Partners with Music In Africa in a Promotional Video
Music In Africa is an information and exchange web portal dedicated to the African music sector. The portal responds to the need for reliable information and networking between music professionals in Africa. It also aims to contribute towards improved collaboration among artistes on an international level, as well as to enhance awareness of African music scenes.
In an effort to adequately meet the needs of artistes in East Africa,  Music In Africa has teamed up with Ketebul Music to create  a video documentation  on their challenges and needs.  The focus will be on highlighting the various areas that the Music In Africa portal has and how it can benefit musicians and professionals working in the music sector.
This is the second video following a similar one that Music In Africa created for the West African region. https://www.youtube.com/watch?v=wdJC4gJGu3U
The Ketebul Music crew has been on the road from Nairobi to Dar es Salaam to Kampala, interviewing artistes and professionals in the East African music industry for the promotional video.  The targeted artistes include Joel Sebunjo, Legend P, Akello and Giovanni Kiyingi from Uganda, Leo Mkanyia and Ben Paul from Tanzania and Makadem, Kidum, Avril and Habida from Kenya.
Joel Sebunjo is one of Uganda's best young folk/world music artistes. He is celebrated all over East Africa for his talent. He has also traveled globally and performed alongside legendary artistes like Yossou N'dour, Salif Keita, Miriam Makeba, Oliver Mtukudzi and many more.
Stay tuned for updates from Ketebul Music and Music In Africa on the future of African Music!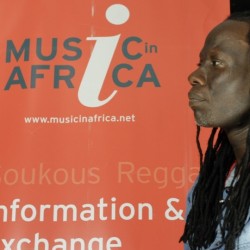 The Spotlight On Kenyan Music 10th Year Anniversary Celebrations
The Spotlight on Kenyan Music Programme marked its 10 year anniversary with a colourful concert held at the Kenyatta International Convention Centre in Nairobi Kenya, last weekend on the 19th and 20th of September 2015. The concert coincided with the Total Motor show, which is a major motor show event in East and Central Africa.
Spotlight on Kenyan Music is a cultural music programme initiated by the Alliance Française in 2005 in partnership with Ketebul Music, with the support of the Embassy of France in Kenya, Total Kenya Ltd, and the Department of Culture.
The concert featured spotlight selected Spotlight artistes such as Lelele Afrika, Juma Tutu, Makadem, Mzee Mwatela and Gargar among others.
On Saturday afternoon the show kicked off with a great performance by Walter Koga, a nyatiti player from Nyakach, Nyanza. He was followed by Mutinda, who is part of the first crop of the spotlight on Kenyan music volume 1, with his song 'Matopeni.' His song 'Simama' also saw him win the International Song Writing Competition.
Next on line was Mzee Mwatela, a renowned percussionist hailing from the coastal town of Malindi. He is featured in the Spotlight On Kenyan Music volume 6 compilation.
The audience was amazed by the mellow voice of Winyo who, though not a Spotlight artiste but a good friend of Alliance Française. Winyo was twice  nominated for the Radio Funds International Discoveries Award and is a beneficiary of the Institut Français.
Makadem, also known as the Ohanglaman or Mganga Mkuu (the great healer) wrapped it all up with a high energy performance which had the crowd on their feet and left them yearning for more. His song 'Nyar Nairobi' is featured in the 1st volume of the Spotlight On Kenyan Music compilation.
As a continuation to the celebrations, on Sunday, Mohammed Guyo from Marsabit opened the stage in style with Lelele Africa stepping in after him. Mohamed Guyo is featured in the Spotlight on Kenyan Music volume 5 compilation, which focused on music from Northern Kenya. Lelele Africa is a band made up of veteran Taarab musicians and are one of the few remaining groups that still play the  old style taarab music. They were featured in the volume 6 compilation.
Next on stage was Chepchumba from the Rift valley, featured in the volume 3 compilation. She was then followed by Juma Tutu, a Swahili jazz  musician whose song titled 'Sukari' was featured in the volume 1 compilation, going on to become became a runaway hit in Kenya.
The performances went on with Ontiri Bikundo from Kisii, whose song titled 'Speed Governor,' a call for responsible sexual behaviour, appears on  the Spotlight On Kenyan Music volume 2 compilation.
Gargar, a group  made up of Kenyan women of Somali origin from Garissa, North Eastern Kenya, were next on stage after Ontiri Bikundo. They are one of the major success stories from the Spotlight On Kenyan Music programme, having travelled to perform and showcase in numerous countries internationally. They are the only group that has been featured in two Spotlight On Kenyan Music compilations, the first being volume 4 with their song 'Aids Wadila' and the second 'Shicir' in the volume 5 compilation.
Sarabi are not Spotlight on Kenyan music artistes but in an effort to support young Kenyan talent, they too were invited to perform. They will be performing on Friday, 24th of September 2015, at the Alliance Française gardens in a show that seeks to raise funds for their upcoming trip to Budapest where they will showcase at WOMEX.
The event was also used to launch Spotlight On Kenyan Music Videos that had been shot and produced by Ketebul Music over a four month period, between May and August 2015.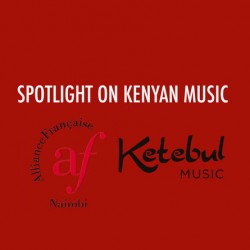 Meet Anyango, Nyar Siaya. The Nyatiti Diva from Japan!
In 2005, a young Japanese lady by the name Eriko Mukoyama visited Kenya and spent close to a year in a village in Western Kenya learning how to play the nyatiti, becoming the first female nyatiti player in the world. The nyatiti is an eight-stringed lyre of the Luo community.
Today Anyango, as she is now known internationally,  has mastered the nyatiti and plays at concerts all around the world.
Recently the Japanese musician visited Ketebul Music studios. During her visit, Anyango signed a deal with Ketebul Music that will see the label release and distribute her music in the region. She also recorded a number of songs with Kenge Kenge and Makadem, which will be featured in a compilation album to be released by Ketebul Music.
For those of you who do not know about this extraordinary artiste, she was born in Tokyo in 1981. While in her third year at the university of Tokyo, she decided to go to New York to study music. The day was September 11th, 2001. It was the day terrorists struck in New York and Washington. Her flight was cancelled and she had to return to Japan. While in Japan, Anyango attended the Kenyan traditional concert in Tokyo and the music at the concert changed her life. She later joined an African band called Burukenge and spent a year touring around Japan.
Her interest in African music led her to Kenya where she learned how to play the nyatiti under the instruction of the late nyatiti maestro, Okumu K'Orengo, from the village of Karapul near Lake Victoria.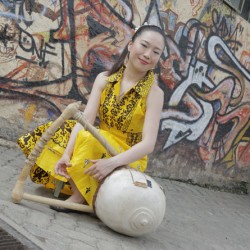 Retracing Kenya's Songs of Protest, Preview & Prelaunch Concert
Ketebul Music releases its most recent compilation in the popular 'Retracing series.'

This latest compilation '
Retracing Kenya's Songs of Protest
(1963-2013)' chronicles the contribution of generations of Kenyan musicians in the movement for social and political reform.
It celebrates 'protest' music and those who make it: music that plays an important role in highlighting injustices and the visionaries whose creative spirit and sacrifice makes social change possible.
The project is supported by the Ford Foundation Office For Eastern Africa.
In conjunction with the Alliance Française, Ketebul Music will air a preview of the documentary contained in this multimedia package, which also comes with a narrative booklet and an audio CD compilation of recent protest music, at the Alliance Francaise de Nairobi gardens.
This will be followed by a concert featuring performances by Just A Band, Sarabi, Juliani, Eric Wainaina and Ohanglaman Makadem.

This event will be hosted by John Sibi-Okumu.
Entry is absolutely FREE!
The multimedia package will be on sale at a one time special collectors introductory price of KES 1,000/= ONLY! After that, prices revert to the usual KES 3,000/= price of the Retracing Series collection.
Unsung Heroes Photo Exhibition
In the weeks preceding the launch of this multimedia package, Ketebul Music will hold a photographic exhibition at the Alliance Francaise de Nairobi lobby.
The pictures in this exhibition are a culmination of research and archiving carried out by Ketebul Music over a period of seven years as part of the Retracing Kenyan Music series.This photo exhibition, produced with the support of the Kenya Music Week, pays tribute to musicians who have shaped the various genres of music in Kenya, and influenced our social psyche over the past five decades.

The "50 Years of Kenyan Music" photo exhibition made its debut at the 10th Annual KENYA MUSIC WEEK which took place at the Sarit Centre Expo Hall from; Thursday 12th to Sunday 15th December 2013 as part of Kenya @ 50 Celebrations, and plans to tour the Country for the next 12 months.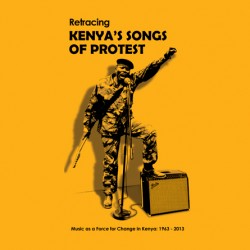 Special Offer on Retracing Kenya's Songs Of Protest Multimedia Package!
Our latest addition to the Retracing Series of documentaries is 'Retracing Kenya's Songs Of Protest.'

The Retracing Series seeks to document and archive the origins and development of different music genres and themes in Kenya. Previous editions have been:
Retracing The Benga Rhythm
Retracing Kikuyu Popular Music and
Retracing Kenya's Funky Hits.
Packaged in our usual multimedia format of print booklet, DVD documentary and audio CD compilation, a preview of Retracing Kenya's Songs Of Protest will be aired at the Alliance Francaise de Nairobi on Friday the 31st of January. This will be folloed by a concert featuring Just A Band, Sarabi, Juliani, Eric Wainaina and our very own Makadem.
As a special offer, for that evening only, we will retail the package at a one time introductory collectors price of KES 1000/= only! After that, the price goes back to the normal price of KES 3000/=.
This is your chance to get your copy at a third of the price!
Keep it here for more updates on this and other Ketebul Music events.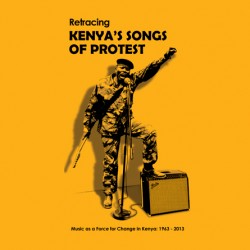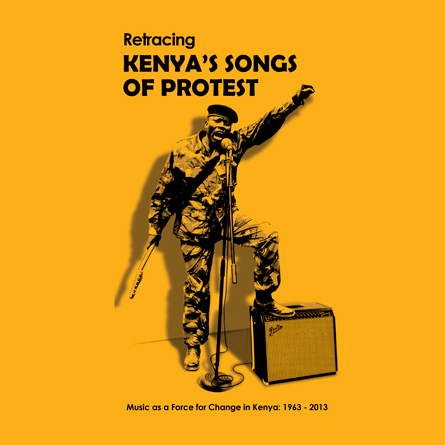 Makadem @ Festival International Ollin Kan 2012 & Cannes Film Festival
By Nyakenya
With only a few weeks left before the end of his 3 months music residency in Cite international des Arts in Paris France, Makadem has had a very busy and exciting schedule.

Earlier this month Makadem was in Mexico where he performed at the annual Festival International Ollin Kan. Makadem was accompanied on stage by the One World All Stars band which comprises of musicians from Copenhagen and Berlin.
Upon his return to Paris last week, Makadem performed at the openning of the Cannes Film Festival, one of the world's most prestigious and publicized international film festival, in Cannes south of France.

During his stay in Paris, Makadem also had the opportunity to meet and rub shoulders with a number of dignitaries from Kenya when they visited France. They included the current Minister For Justice Hon Eugene Wamalwa and the Chairman of IEBC Mr Ahmed Isaak Hassan.

Makadem whose residency comes to a close at the end of this month, will be returning home shortly where he will then headline at the Sawa Sawa festival.
Stay tuned for more updates on this and other stories from Ketebul Music.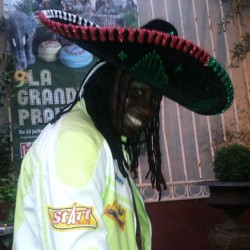 Makadem In Paris
By Nyakenya
Contributions by Stefano
Today marks the 3rd week since Makadem went for his kalimba and guitar residency in Paris, under the Atelier du Monde programme of the Institut Francais. The Ohanglaman (soon to be Kalimbaman) reports that he is already knee deep in class and the groove is on!

Makadem started his first sessions with the Angolan Kalimba maestro Lulendo Mvulu and Togolese guitar virtuoso Amen Viana (www.reverbnation.com/amenviana) on 16th of March. He was, in his own words, blown away by the skills possesed by his 2 mentors and their generosity and willingness to share with him their time and talents.

Makadem is glad not to be alone in the residency programme. Fellow musicians also in Paris for the residency with Makadem are Allis Naaba (www.myspace.com/alifnaaba) from Burkina Fasa and Naby (www.myspace.com/demrek) from Senegal, both of whom he describes as gifted and inspirational.

The Ohanglaman who for the duration of his residency is residing at Cite des Arts in Paris, also took some time off for sight seeing like most tourists would do. The streets of Paris are sure to provide inspiration to Makadem for future compositions.

In true Kenyan style, Makadem was sure not to forget the essentials during his travel. Apart from his guitar and kalimba, the Ohanglaman carried with him his survival kit..!

We wish Makadem all the best and we hope he aquires as much knowledge as possible. We are looking forward to sharing the experience with him when he gets back home.
Message from Ketebul Music to Makadem, "Come back with a new kalimba. The better for you to practice your newly acquired skills on..!"

For more pictures and daily updates from The Ohanglaman himself, follow Makadem on facebook by CLICKING HERE
Featured Pictures courtesy of Makadem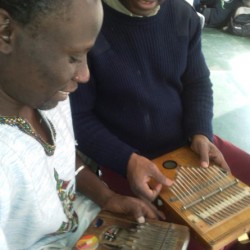 Makadem For Music Residency In Paris, France
It seems like globe trotting will again be the order of the day for Ketebul Music artist Makadem. The Ohanglaman will soon be packing his bags as he takes off for a 3 month music residency in Paris, France.
Supported by the Institut Francais under the Ateliers du Monde programme, Makadem was selected for the residency programme which will see him study under internationally reknown kalimba maestro, Lolendo Mvulu, with the intention of improving his kalimba playing skills.
Makadem who spent the better part of last year in Europe, will also use his time in Paris interacting with other musicians like the critically acclaimed Congolese guitarist Syrian M'Benza.known for his collaborations with the likes of Sam Mangwana, Vicky Longomba and Nyboma to name but a few. Syrian M'Benza is widely acknowledged as one of Africa's finest and most accomplished guitarists (quoted from African Musician's Profiles).

We at Ketebul Music extend our gratitude to Institut Francais for giving Makadem this opportunity.
Featured photo ©Paulo da Costa
Makadem on TV 2 GO /Morgen-Tv
On 28th of October, Makadem was in the studios of Danish National TV Station TV 2 GO/Morgen TV.
Together with his band, Makadem performed DHI NDALO, a song from his current album OHANGLAMAN and was backed up by Soweto Kinch, Carl Winther, Yohan Ramon and Yuliesky Guerra Gonzalez.
Featured photo by Derek Ruttan, London Free Press