Makadem,Seun Kuti & Egypt 80, Soweto Kinch
By Nyakenya
Makadem, The Ohanglaman, one of the most exciting musicians and performers from Kenya,opened the stage for the great Nigerian musician Oluseun Anikulapo Kuti,better known as Seun Kuti, son to the legendary Afro Beat pioneer Fela Kuti.

This was a great opportunity and honour for Makadem who has been likened to the great Fela Kuti himself, owing to his energy and  stage presence. This was the sixth performance on Makadem's One World Scandinavian tour which began on the 20th of October and will be coming to a close on the 19th of November 2011.
Also joining makadem on stage was Soweto Kinch, a renowned British alto saxophonist and rapper.
For more information on this and other shows on the tour CLICK HERE.
Featured photo by Paulo da Costa. To see more photos of Makadem by Paulo da Costa CLICK HERE.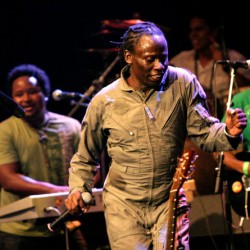 Makadem Opening for Seun Kuti & Egypt 80
Ketebul Music artist Makadem, travels to Europe today for his autumn One World-Scandinavian tour that will see him perform at venues in Denmark & Sweden. The highlight of this extensive one month tour will be opening for Seun Kuti & Egypt 80 in Copenhagen, Denmark on the 28th of October.
Seun Kuti is the youngest son of legendary Nigerian afro beat pioneer Fela Kuti. Seun is backed by his father's former band, Egypt 80, which consists of musicians that not only played with Fela, but were often arrested and harassed alongside the founder of the Afrobeat movement.
Makadem, renowned for his electrifying performances and high energy on stage, is also set to perform at the 2011 edition of Word Music Expo (WOMEX), backed by his 4 piece band.
Makadem who plays the guitar, kayamba, and kalimba, will perform songs such as Kisumu Bound Bus and Nyar Nairobi City from his debut CD 'Ohanglaman.'
For information on this tour follow Makadem on: Makadem on Tour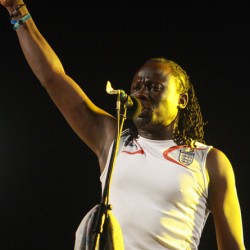 Ketebul Music @ The Rift Valley Festival.
It has been a long and event filled weekend for Ketebul Music artistes and crew, who have been in Naivasha for the Rift Valley Festival. From Friday 2nd, the Ketebul Music team has been at Fisherman's Camp either performing on stage or offering support for the Festival.
Makadem the Ohanglaman thriled the crowd on Friday evening by giving the show a thundering openning as has become customary of all his performances.
On Saturday, the festival goers braved the rain and the cold to see Winyo perform songs from his upcoming CD Benga Blues.
Today being the lasty day of the festival will be treated to Olith's brand of Ohangla fusion.
The Ketebul Music crew will depart for Nairobi tomorrow morning.
Stay tuned for final update on Ketebul Music @ the Rift Valley Festival!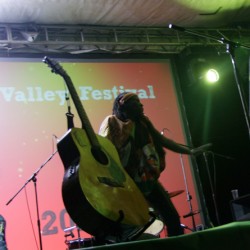 Makadem, Winyo & Olith Ratego for Rift Valley Festival, Naivasha
This September, Ketebul Music will take Naivasha by storm when three of our artists will take on stage for the annual Rift Valley Festival.
Set on the banks of Lake Naivasha at Fishaerman's Camp, the Rift Valley Festival is a must see event for anyone wishing to catch Makadem, Olith Ratego and Winyo live on stage.
Globe trotting Makadem will take to the stage on Friday 02 on what will be one of his final local shows this year before he embarks on yet another tour of Europe and South America.

Olith Ratego will be on stage on Saturday 03 with his own blend of Ohangla.
Two time RFI Discpveries Award nominee Winyo will wind up the Ketebul roster on Sunday o4 with his Benga Blues.
For more details on the festival, click on the link below;
RIft Valley Festival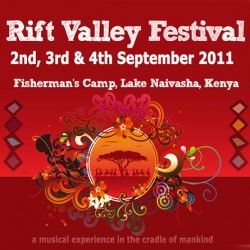 Makadem to open for Seun Kuti & Egypt 80!
Ketebul Music's premier artist Makadem, The Ohanglaman is set to open for Seun Kuti & Egypt 80 this October in Copenhagen, Denmark!
Seun Kuti is the son to the legendary founder of Afro Beat, Fela Anikulapo Kuti. Egypt 80 is the original band that played with Fela and was inherited by Seun upon his father's death.
This will be one of the biggest shows to date for Makadem, who has on ocassion been refered to as East Africa's answer to the great Fela himself!
For more information on this, please follow the link below;
Makadem to open for Seun Kuti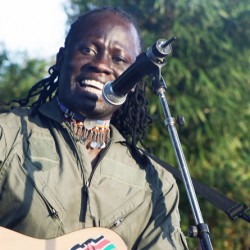 Kisumu Peace Festival: Makadem & Winyo
Makadem & Winyo were in Kisumu over the weekend where they performed at the inaugural Kisumu Peace Festival. Despite the less than adequate technical provisions made by the festival organisers(poor sound and PA equipment), the two Ketebul Music artists still gave their best performances judging from the positive reception they received from the tough Kisumu audience who have been known to throw performers off the stage.
Winyo took to the stage on Thursday during the official opening ceremony of the festival which was officiated by the Prime Minister of Kenya R.H Raila Amolo Odinga. His performance of some of the songs off his soon to be released Benga Blues CD, drew three encores from the audience.
Makadem was the closing act on the second day of the three day festival. The Ohanglaman was true to his charismatic and energetic style and had the massive crowd in attendance locked to his every word and step as he unleashed his 'Anglo Ohangla' on stage.
You can take a brief pictorial journey into thr event by clicking on the links below;
Winyo @ Kisumu Peace Festival
Makadem @ Kisumu Peace Festival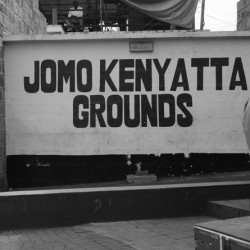 Makadem @ Sunfest 2011
Makadem, in his trademark explosive high energy style had an astonishing performance at Sunfest, in Ontario Canada on Friday, Saturday and Sunday. He was featured on the front page of London Free Express newspaper.
Makadem is on the last stages of his One World Summer Tour which saw him perform in Scandanavia and Canada over a period of one month. With 2 more shows to go, Makadem has had a very successful tour. He is expected back home later next week.
To view a bit of Makadem's performance @ Victoria Park, London in Ontario, please click here.
Photo by Karen Brodie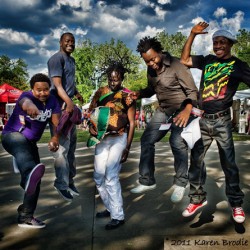 Makadem @ Sunfest, Ontario Canada.
Makadem
played his first of 3 shows at Canada's premier world music festival, Sunfest, in Ontario, Canada on Friday. The Ohanglaman is set to do 2 more shows on Saturday 9th and Sunday 10th.
Makadem will then travel to Montreal where he will play at the Nuits D´Afrique festival on the 12th of July 2011.
To keep up with Makadem on his tour, click on the link below for all his upcoming tour dates;
Makadem Tour Dates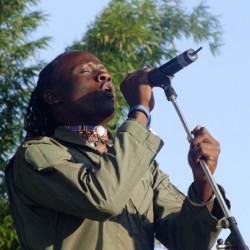 Makadem: The Ohanglaman Goes To Europe
Ketebul Music's premier artist Makadem the Ohangla Man continues to soar to greater heights. Lately, Europe seems to be his preferred destination for mega concerts.
His nordic tour will not only see him play at venues in Denmark and Sweden, but will also include Canada whre he will perform at the Festival Nuits d´Afrique in Montreal and Sumfest in Ontario.
Please visit Ohangla Man in Europe for dates and venues of Makadem's tour.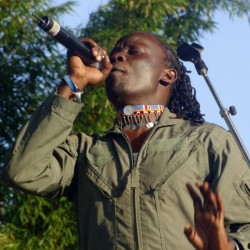 MAKADEM meets AL AGAMI & BEN BESIAKOV "Benga Beat Collective"
Makadem the Ohanglaman will share the stage with Danish based award winning hip hop artist Al Agami and reknowned pianist Ben Besiakov as a unique trio dubbed ' The Benga Beat Collective" while on tour in Denmark. Al Agami pioneered the Danish rap scene in the mid 80's and is still considered one of the most beloved live performers in the country. Al and Makadem shared the stage for the first time at Sauta Za Busara Music Festival in 2010.The Benga beat collective will perform during the months of July, October and November 2011 in a series of concerts scheduled to take place in Denmark, Sweden and Canada.