The Spotlight On Kenyan Music 10th Year Anniversary Celebrations
The Spotlight on Kenyan Music Programme marked its 10 year anniversary with a colourful concert held at the Kenyatta International Convention Centre in Nairobi Kenya, last weekend on the 19th and 20th of September 2015. The concert coincided with the Total Motor show, which is a major motor show event in East and Central Africa.
Spotlight on Kenyan Music is a cultural music programme initiated by the Alliance Française in 2005 in partnership with Ketebul Music, with the support of the Embassy of France in Kenya, Total Kenya Ltd, and the Department of Culture.
The concert featured spotlight selected Spotlight artistes such as Lelele Afrika, Juma Tutu, Makadem, Mzee Mwatela and Gargar among others.
On Saturday afternoon the show kicked off with a great performance by Walter Koga, a nyatiti player from Nyakach, Nyanza. He was followed by Mutinda, who is part of the first crop of the spotlight on Kenyan music volume 1, with his song 'Matopeni.' His song 'Simama' also saw him win the International Song Writing Competition.
Next on line was Mzee Mwatela, a renowned percussionist hailing from the coastal town of Malindi. He is featured in the Spotlight On Kenyan Music volume 6 compilation.
The audience was amazed by the mellow voice of Winyo who, though not a Spotlight artiste but a good friend of Alliance Française. Winyo was twice  nominated for the Radio Funds International Discoveries Award and is a beneficiary of the Institut Français.
Makadem, also known as the Ohanglaman or Mganga Mkuu (the great healer) wrapped it all up with a high energy performance which had the crowd on their feet and left them yearning for more. His song 'Nyar Nairobi' is featured in the 1st volume of the Spotlight On Kenyan Music compilation.
As a continuation to the celebrations, on Sunday, Mohammed Guyo from Marsabit opened the stage in style with Lelele Africa stepping in after him. Mohamed Guyo is featured in the Spotlight on Kenyan Music volume 5 compilation, which focused on music from Northern Kenya. Lelele Africa is a band made up of veteran Taarab musicians and are one of the few remaining groups that still play the  old style taarab music. They were featured in the volume 6 compilation.
Next on stage was Chepchumba from the Rift valley, featured in the volume 3 compilation. She was then followed by Juma Tutu, a Swahili jazz  musician whose song titled 'Sukari' was featured in the volume 1 compilation, going on to become became a runaway hit in Kenya.
The performances went on with Ontiri Bikundo from Kisii, whose song titled 'Speed Governor,' a call for responsible sexual behaviour, appears on  the Spotlight On Kenyan Music volume 2 compilation.
Gargar, a group  made up of Kenyan women of Somali origin from Garissa, North Eastern Kenya, were next on stage after Ontiri Bikundo. They are one of the major success stories from the Spotlight On Kenyan Music programme, having travelled to perform and showcase in numerous countries internationally. They are the only group that has been featured in two Spotlight On Kenyan Music compilations, the first being volume 4 with their song 'Aids Wadila' and the second 'Shicir' in the volume 5 compilation.
Sarabi are not Spotlight on Kenyan music artistes but in an effort to support young Kenyan talent, they too were invited to perform. They will be performing on Friday, 24th of September 2015, at the Alliance Française gardens in a show that seeks to raise funds for their upcoming trip to Budapest where they will showcase at WOMEX.
The event was also used to launch Spotlight On Kenyan Music Videos that had been shot and produced by Ketebul Music over a four month period, between May and August 2015.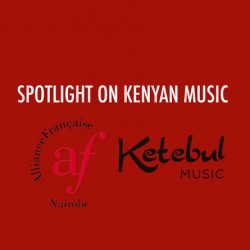 Welcome to Festive Friday!
Happy Friday Ketebul Music friends and family!
Starting this and every Friday we will be sharing and reminding you of the festivals and events where our personnel and signed artists, and those within the larger Ketebul Music network will be attending, showcasing and performing.
We will call this, FESTIVE FRIDAY!
To kick us off this Festive Friday, we debut by featuring our very own Winyo.
Winyo will be performing @ MASA| Market for African Performing Arts which will be held in Côte d'Ivoire between 1st and 8th of March 2014. Masa created in 1993 by the Intergovernmental Agency of the Francophonie , is a festival of African Art ( theater , music and dance ) held every two years in Abidjan.
Winyo who is a gifted and talented singer, songwriter and guitarist, has one album/ CD to his credit titled Benga Blues, which was recorded and produced at Ketebul Music Studios.

Winyo started off as part of the critically acclaimed and accomplished trio named 'Rateng' (which means Black in Luo), cutting his teeth as the composer, lead vocalist and guitarist of the group. With the group Rateng, they went on to emerge 3rd in the Uzbekistan Cultural Music Festival in 2006. Winyo was instrumental in the writing and composing of the group's album titled 'Thumology', which was released in the year 2009.
Winyo derives his music and musical strength from his fore fathers whose African music was rich in melody and traditional harmonies. His musical style ranges from traditional Luo melodies infused with witty story lines, afro fusion and afro jazz, to a contemporary interpretation of Benga, transformed into an authentic acoustic sound. His powerful yet mellow vocals are the icing on the cake that makes listening to Winyo, an almost heavenly experience.
For more info and updates follow Winyo on facebook: CLICK HERE
For info on MASA, CLICK HERE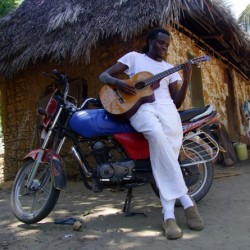 Catch Winyo Live @ Treehouse Thursday 14th March
Following the release of his debut Cd titled Benga Blues, Winyo is set to do a number of shows to promote the CD.
On Thursday the 14th of March, Winyo will be on stage at the Treehouse where he will play music from Benga Blues. Winyo will also throw in a special treat by playing new music that he has been working on.
Benga Blues will be on sale at the venue, and Winyo will be available to personally autograph your copy after the show.
As always, keep tabs on Winyo, his projects and upcoming shows by following him on facebook.
Click HERE to like his page.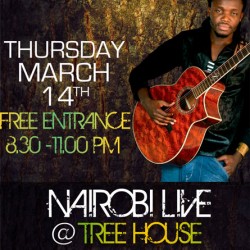 Benga Blues Is Now Available
It is finally out and available for purchase! Benga Blues, the debut CD by Winyo, and one of the most anticipated releases of 2012-2013 is now available at limited outlets.
You can get your copy autographed by Winyo and delivered to you (deliveries only within Nairobi CBD) by simply liking his facebook page, placing your order and sending Winyo a message on facebook that you would want written on your CD copy!
CLICK HERE to like Winyo's page and call 0720561198 to order your copy!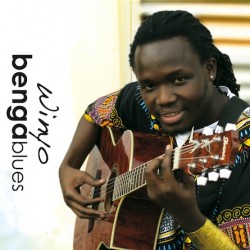 Olith Ratego & Winyo @ The Rift Valley Festival 2012
The Rift Valley Festival is back again and for the 3rd time in a smany years,Olith Ratego will be taking to the stage to perform his unique style of Afro-Ohangla.

For the past year, Olith with his band have been working hard at developing his unique sound that features elements of popular Ohangla fused with Dodo music. Be sure to cathc him on stage on the 1st of September at the Fisherman's Camp, the home of the Rift Valley Festival.
Also on stage at the festival will be Winyo with his quartet setting the tone for a pleasant climax to the festival on Sunday the 2nd of September at 3.00pm.

Winyo whose debut CD will be hitting stores and outlets mid September, is a must se artist for any one looking for an uplifting voice accompanied by a truly Kenyan sound.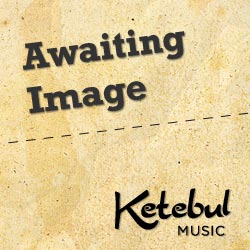 Benga Blues: Sign Up For Advance Copies
By Nyakenya
Benga Blues by Winyo is set to be released soon. You can sign up for advance copies of the CD by calling us on (+254) 720 561 198 or send us an email on info@ketebulmusic.org. The CD will then be delivered to you personally on release.
Thank you very much for being part of the Ketebul Music family, The Home of Real Music.
NOTE: Delivery will only be done to City Center and close environs. You can also collect your advance copies from Ketebul Music Studios at The Godown Arts Centre
Click Here To Like Winyo's Facebook Page
Featured picture by Stefano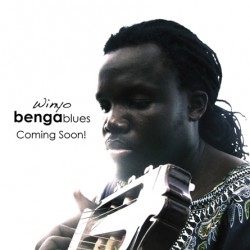 Winyo Shortlisted For Rolex Mentor & Protégé Arts Initiative
By Stefano
We are proud to announce that our very own Winyo has been shortlisted as one of the four finalists for the Rolex Mentor & Protégé Arts Initiative!

The Rolex Mentor and Protégé Arts Initiative is an international philanthropic programme created to assist extraordinary, rising artists to achieve their full potential. It seeks out these artists from around the world and brings them together with great masters, for a year of creative collaboration in a one-to-one mentoring relationship(extracted from www.rolexmentorprotege.com).
Winyo was invited to apply for the programme by the Initiative's Selection Committee and went on to be shortlisted as one of the four finalists in the music category of the Initiative.
If selected, Winyo will benefit from a year of mentoring,starting June 2012, from legendary Brazillian singer, guitarist and songwriter, Gilberto Gil.
Gilberto Gil is known for both his musical innovation and political commitment. From 2003 to 2008, he served as Brazil's Minister of Culture in the administration of President Luiz Inácio Lula da Silva. Gil's musical style incorporates an eclectic range of influences, including Rock music, Brazilian genres including samba, African music, and reggae (extracted from wikipedia). Gilberto Gil also has 7 Grammy Awards to his name including Best Contemporary World Music Album in 1999 and 2005 for his albums' Quanta Live' and 'Eletracústico' respectively. He also holds two Latin Awards Grammies for Best Brazillian Roots Album for 2001 and 2002.

Previuos mentors and protégés in the music cartegory of the initiative include Brian Eno (mentor) and Ben Frost (protégé) 2010/2011, and recently Youssour N'Dour (mentor) and Aurelio Martinez (protégé).
Winyo is set to travel to Rio Dejaneiro in Brazil for a face to face meeting with Gilberto Gil. Mr Gil will then select his protege out off the four finalists.
Many of you might remember Winyo has twice been selected for the Radio France International Discoveries programme of 2010 and 2011. He went on to be the first runners up in 2010.

We take this chance to congratulate Winyo for first being selected and invited to apply for the mentorship programme, and on making it to the shortlist.
All the best in your meeting with Mr. Gil.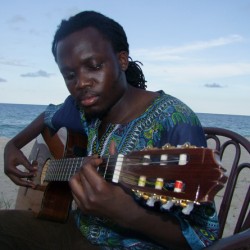 Ketebul Music @ The Rift Valley Festival.
It has been a long and event filled weekend for Ketebul Music artistes and crew, who have been in Naivasha for the Rift Valley Festival. From Friday 2nd, the Ketebul Music team has been at Fisherman's Camp either performing on stage or offering support for the Festival.
Makadem the Ohanglaman thriled the crowd on Friday evening by giving the show a thundering openning as has become customary of all his performances.
On Saturday, the festival goers braved the rain and the cold to see Winyo perform songs from his upcoming CD Benga Blues.
Today being the lasty day of the festival will be treated to Olith's brand of Ohangla fusion.
The Ketebul Music crew will depart for Nairobi tomorrow morning.
Stay tuned for final update on Ketebul Music @ the Rift Valley Festival!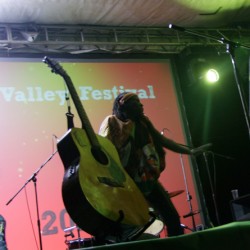 Makadem, Winyo & Olith Ratego for Rift Valley Festival, Naivasha
This September, Ketebul Music will take Naivasha by storm when three of our artists will take on stage for the annual Rift Valley Festival.
Set on the banks of Lake Naivasha at Fishaerman's Camp, the Rift Valley Festival is a must see event for anyone wishing to catch Makadem, Olith Ratego and Winyo live on stage.
Globe trotting Makadem will take to the stage on Friday 02 on what will be one of his final local shows this year before he embarks on yet another tour of Europe and South America.

Olith Ratego will be on stage on Saturday 03 with his own blend of Ohangla.
Two time RFI Discpveries Award nominee Winyo will wind up the Ketebul roster on Sunday o4 with his Benga Blues.
For more details on the festival, click on the link below;
RIft Valley Festival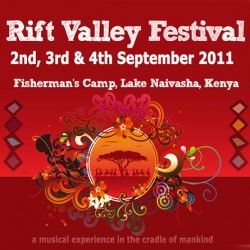 Vote For Winyo: RFI Discoveries 2011
The voting lines for RFI Discoveries Award 2011 are finally open! We are calling on all fans and friends of winyo to visit his profile on the RFI website (CLICK HERE TO VIEW PROFILE) and cast your vote for Winyo.
The competition is very stiff with a list of ten very talented musicians from Africa and the Caribbean, thus we need all the votes and supportwe can get. Please vote and share the link with your friends.
Voting is simple: CLICK HERE to go to the voting page, select Winyo from the list, fill in a few details on the form given and then click on send to cast your vote!
Winyo was a top ten finalist for the same award in 2010, and managed to be voted the first runners up. With your support and votes, we can push this gifted and talented artist to get the top prize.
Kindly follow the links below to view Winyo's profile on RFI website and to cast your vote;