Winyo
Profile: Winyo
Born Shiphton Onyango, Winyo adopted his artistic name 'Winyo', which is a Luo word (a tribe from the Lake Victoria region of Western Kenya) for "a bird". The reason for this becomes apparent once you hear him sing. His voice has been likened to that of a singing bird.
Winyo is a singer and songwriter of great sensitivity and he also plays the guitar, backed by his 4 piece band of accomplished musicians.
Winyo derives his music and musical strength from his fore fathers whose African music was rich in melody and traditional harmonies. His musical style ranges from traditional Luo melodies infused with witty story lines, afro fusion and afro jazz, to a contemporary interpretation of Benga, transformed into an authentic acoustic sound. His powerful yet mellow vocals are the icing on the cake that makes listening to Winyo, an almost heavenly experience.
Winyo sings in his paternal language of Dholuo, Swahili and English. His stories address a myriad of social issues ranging from the plight of homeless children to courtship and love stories.
Winyo started off as part of the critically acclaimed and accomplished trio named 'Rateng' (which means Black in Luo), cutting his teeth as the composer, vocalist and guitarist of the group. Winyo was instrumental in the writing and composing of the group's album titled 'Thumology', which was released in 2009.
In 2010, Winyo was shortlisted as one of the ten finalists in the Radio France International (RFI) Discoveries. He went on to be the overall first runners up. This was followed by a second nomination and top ten shortlisting in RFI Discoveries in 2011.
Come 2012, Winyo was once again nominated for an international award, this time from the Rolex Arts Initiative for a mentor and protege programme. Winyo went on to be invited as one of the four finalists who travelled to Rio De Janeiro in Brazil to meet with the legendary Gilberto Gil. Although Winyo was not selected as the protege, he did manage to work with Mr Gil.
Winyo is also a much sought after composer and song writer and has penned songs for many chart topping artistes in Kenya, including;
Niwe, Nguga ii Baiskeli, Malaika (Arrangement), Fever (arrangement) for Tusker Project Fame winner 2008, Valerie Kimani 's album Baiskeli
Angalia Saa for Ukoo Fulani Mau Mau

.
He is also a professional photographer, actor and a TV producer. He is currently the executive video producer for a Kenyan media company called Big foot productions, which has produced several local TV shows.
Winyo's goal is to take African music to the world, and enliven people to dance and sing to the sweet and melodic sounds of African songs and music.
To date, Winyo has graced the stage and performed at numerous shows and festivals both locally and internationally including the following;

Moshito, South Africa 2010
Bushfire Festival, Swaziland – 2010
The Rift Valley Festival, Kenya – 2010
Sawa Sawa Festival, alongside Jazz maestro Hugh Masekhela (South Africa) and Ayub Ogada (Kenyan nyatiti player based in England) – 2008
BBC Radio Journalist of the Year Award, Kenya. 2007
The Hon. Raila Odinga's Presidential Campaign Launch (Kenya) 2007
Uzbekistan Cultural Music Festival 2006

A special edition of Winyo's debut CD as a solo artist titled Benga Blues, was released in Europe as an EP while he was on a tour that saw him perform in Germany, Italy, Romania, and France. The CD was well received and will be officially launched in Kenya and internationally in August of 2012.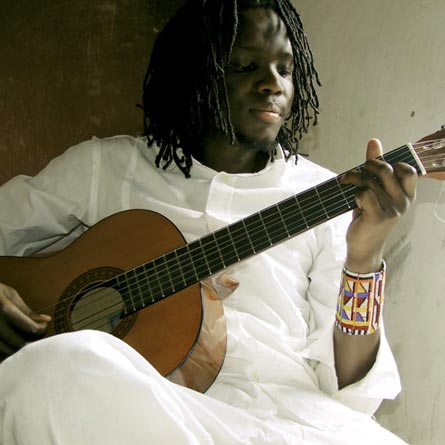 Welcome to Festive Friday!
Happy Friday Ketebul Music friends and family!
Starting this and every Friday we will be sharing and reminding you of the festivals and events where our personnel and signed artists, and those within the larger Ketebul Music network will be attending, showcasing and performing.
We will call this, FESTIVE FRIDAY!
To kick us off this Festive Friday, we debut by featuring our very own Winyo.
Winyo will be performing @ MASA| Market for African Performing Arts which will be held in Côte d'Ivoire between 1st and 8th of March 2014. Masa created in 1993 by the Intergovernmental Agency of the Francophonie , is a festival of African Art ( theater , music and dance ) held every two years in Abidjan.
Winyo who is a gifted and talented singer, songwriter and guitarist, has one album/ CD to his credit titled Benga Blues, which was recorded and produced at Ketebul Music Studios.

Winyo started off as part of the critically acclaimed and accomplished trio named 'Rateng' (which means Black in Luo), cutting his teeth as the composer, lead vocalist and guitarist of the group. With the group Rateng, they went on to emerge 3rd in the Uzbekistan Cultural Music Festival in 2006. Winyo was instrumental in the writing and composing of the group's album titled 'Thumology', which was released in the year 2009.
Winyo derives his music and musical strength from his fore fathers whose African music was rich in melody and traditional harmonies. His musical style ranges from traditional Luo melodies infused with witty story lines, afro fusion and afro jazz, to a contemporary interpretation of Benga, transformed into an authentic acoustic sound. His powerful yet mellow vocals are the icing on the cake that makes listening to Winyo, an almost heavenly experience.
For more info and updates follow Winyo on facebook: CLICK HERE
For info on MASA, CLICK HERE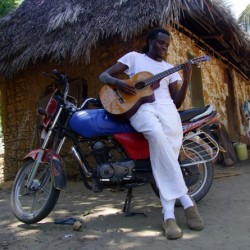 Catch Winyo Live @ Treehouse Thursday 14th March
Following the release of his debut Cd titled Benga Blues, Winyo is set to do a number of shows to promote the CD.
On Thursday the 14th of March, Winyo will be on stage at the Treehouse where he will play music from Benga Blues. Winyo will also throw in a special treat by playing new music that he has been working on.
Benga Blues will be on sale at the venue, and Winyo will be available to personally autograph your copy after the show.
As always, keep tabs on Winyo, his projects and upcoming shows by following him on facebook.
Click HERE to like his page.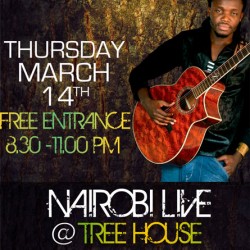 Benga Blues Is Now Available
It is finally out and available for purchase! Benga Blues, the debut CD by Winyo, and one of the most anticipated releases of 2012-2013 is now available at limited outlets.
You can get your copy autographed by Winyo and delivered to you (deliveries only within Nairobi CBD) by simply liking his facebook page, placing your order and sending Winyo a message on facebook that you would want written on your CD copy!
CLICK HERE to like Winyo's page and call 0720561198 to order your copy!