The Passing of a Legend; Michael Kinyany
Ketebul Music wishes to extend our condolences to the family of Michael Kinyany who passed away on the 18th of December 2015.
Michael Kinyany was a member of the group Lang Obiero that played benga and rumba in the 1950's. Lang Obiero was among the groups recorded by ethnomusicologist Hugh Tracy in the early 1950's. The group was one of the leading bands at that time and Michael was the youngest member.
In August 2014, Ketebul Music in partnership with the International Library of African Music (ILAM) with the support of Abubilla Music Foundation repatriated some of these recordings which included Lang Obiero's music. During that time, we met with and interviewed Michael and he gave us an insight on music in the 50's and his take on music in general.
Kenyany was an astute business man and is a good example of how one can attain good education, be an entrepreneur and still be a great musician.
Ketebul Music will feature him in our book 'Shades of Benga' set to be launched soon.
Keep it here for updates on this and much more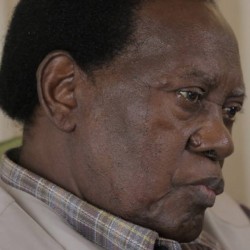 Ketebul Music at Utam Festival
Ketebul Music artists Olith Ratego and Makadem performed at the premiere edition of Utam Festival last weekend, 29th of November 2015.  UTAM FESTIVAL is a Kenyan Annual Multi-Cultural Music Festival that gives a platform for global cultural integration using art. The aim of the festival is to showcase, expose and share East African arts and culture to the world.
The event kicked off at 2.30 pm with a brilliant performance by Olith Ratego, who wowed the crowd with his singing skills. Olith played his signature home-made instrument known as the 'kodo'. He told melodic stories in his music and invited the crowd to journey with him into his musical world.
Makadem, also known as Mganga Mkuu, with his charismatic persona and powerful vocal delivery as always had the crowd on their feet. He not only sang to his audience but fully engaged with them throughout his performance.
Several other artists from East Africa such as Ricky Na Marafiki, Wangechi, Sarakasi Dancers, Teto Tutuma, Tetu Shani, Giovanni Kiyingi from Uganda, Swahili Ally from Tanzania, and Ugandan Saxophonist Brian Mugenyi among others were also present and showcased their best.
From poetry to music to dance… The festival was a blissful blend of art.
The little ones were not left behind…
The festival offered a cocktail of music, diverse cultures and a beautiful coexistence between different people brought together by their mutual love for music. As the famous Youssou N'Dour once said, "Music is a language"
Photo credits: Quaint Photography.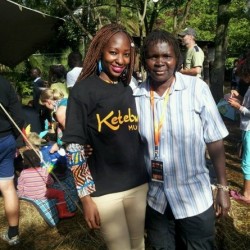 Ketebul Music Partners with Music In Africa in a Promotional Video
Music In Africa is an information and exchange web portal dedicated to the African music sector. The portal responds to the need for reliable information and networking between music professionals in Africa. It also aims to contribute towards improved collaboration among artistes on an international level, as well as to enhance awareness of African music scenes.
In an effort to adequately meet the needs of artistes in East Africa,  Music In Africa has teamed up with Ketebul Music to create  a video documentation  on their challenges and needs.  The focus will be on highlighting the various areas that the Music In Africa portal has and how it can benefit musicians and professionals working in the music sector.
This is the second video following a similar one that Music In Africa created for the West African region. https://www.youtube.com/watch?v=wdJC4gJGu3U
The Ketebul Music crew has been on the road from Nairobi to Dar es Salaam to Kampala, interviewing artistes and professionals in the East African music industry for the promotional video.  The targeted artistes include Joel Sebunjo, Legend P, Akello and Giovanni Kiyingi from Uganda, Leo Mkanyia and Ben Paul from Tanzania and Makadem, Kidum, Avril and Habida from Kenya.
Joel Sebunjo is one of Uganda's best young folk/world music artistes. He is celebrated all over East Africa for his talent. He has also traveled globally and performed alongside legendary artistes like Yossou N'dour, Salif Keita, Miriam Makeba, Oliver Mtukudzi and many more.
Stay tuned for updates from Ketebul Music and Music In Africa on the future of African Music!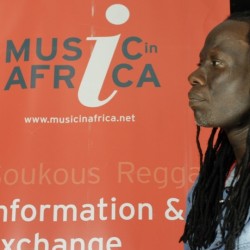 The Spotlight On Kenyan Music 10th Year Anniversary Celebrations
The Spotlight on Kenyan Music Programme marked its 10 year anniversary with a colourful concert held at the Kenyatta International Convention Centre in Nairobi Kenya, last weekend on the 19th and 20th of September 2015. The concert coincided with the Total Motor show, which is a major motor show event in East and Central Africa.
Spotlight on Kenyan Music is a cultural music programme initiated by the Alliance Française in 2005 in partnership with Ketebul Music, with the support of the Embassy of France in Kenya, Total Kenya Ltd, and the Department of Culture.
The concert featured spotlight selected Spotlight artistes such as Lelele Afrika, Juma Tutu, Makadem, Mzee Mwatela and Gargar among others.
On Saturday afternoon the show kicked off with a great performance by Walter Koga, a nyatiti player from Nyakach, Nyanza. He was followed by Mutinda, who is part of the first crop of the spotlight on Kenyan music volume 1, with his song 'Matopeni.' His song 'Simama' also saw him win the International Song Writing Competition.
Next on line was Mzee Mwatela, a renowned percussionist hailing from the coastal town of Malindi. He is featured in the Spotlight On Kenyan Music volume 6 compilation.
The audience was amazed by the mellow voice of Winyo who, though not a Spotlight artiste but a good friend of Alliance Française. Winyo was twice  nominated for the Radio Funds International Discoveries Award and is a beneficiary of the Institut Français.
Makadem, also known as the Ohanglaman or Mganga Mkuu (the great healer) wrapped it all up with a high energy performance which had the crowd on their feet and left them yearning for more. His song 'Nyar Nairobi' is featured in the 1st volume of the Spotlight On Kenyan Music compilation.
As a continuation to the celebrations, on Sunday, Mohammed Guyo from Marsabit opened the stage in style with Lelele Africa stepping in after him. Mohamed Guyo is featured in the Spotlight on Kenyan Music volume 5 compilation, which focused on music from Northern Kenya. Lelele Africa is a band made up of veteran Taarab musicians and are one of the few remaining groups that still play the  old style taarab music. They were featured in the volume 6 compilation.
Next on stage was Chepchumba from the Rift valley, featured in the volume 3 compilation. She was then followed by Juma Tutu, a Swahili jazz  musician whose song titled 'Sukari' was featured in the volume 1 compilation, going on to become became a runaway hit in Kenya.
The performances went on with Ontiri Bikundo from Kisii, whose song titled 'Speed Governor,' a call for responsible sexual behaviour, appears on  the Spotlight On Kenyan Music volume 2 compilation.
Gargar, a group  made up of Kenyan women of Somali origin from Garissa, North Eastern Kenya, were next on stage after Ontiri Bikundo. They are one of the major success stories from the Spotlight On Kenyan Music programme, having travelled to perform and showcase in numerous countries internationally. They are the only group that has been featured in two Spotlight On Kenyan Music compilations, the first being volume 4 with their song 'Aids Wadila' and the second 'Shicir' in the volume 5 compilation.
Sarabi are not Spotlight on Kenyan music artistes but in an effort to support young Kenyan talent, they too were invited to perform. They will be performing on Friday, 24th of September 2015, at the Alliance Française gardens in a show that seeks to raise funds for their upcoming trip to Budapest where they will showcase at WOMEX.
The event was also used to launch Spotlight On Kenyan Music Videos that had been shot and produced by Ketebul Music over a four month period, between May and August 2015.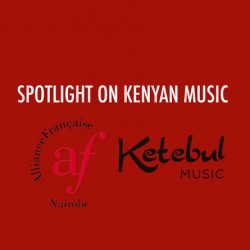 Meet Anyango, Nyar Siaya. The Nyatiti Diva from Japan!
In 2005, a young Japanese lady by the name Eriko Mukoyama visited Kenya and spent close to a year in a village in Western Kenya learning how to play the nyatiti, becoming the first female nyatiti player in the world. The nyatiti is an eight-stringed lyre of the Luo community.
Today Anyango, as she is now known internationally,  has mastered the nyatiti and plays at concerts all around the world.
Recently the Japanese musician visited Ketebul Music studios. During her visit, Anyango signed a deal with Ketebul Music that will see the label release and distribute her music in the region. She also recorded a number of songs with Kenge Kenge and Makadem, which will be featured in a compilation album to be released by Ketebul Music.
For those of you who do not know about this extraordinary artiste, she was born in Tokyo in 1981. While in her third year at the university of Tokyo, she decided to go to New York to study music. The day was September 11th, 2001. It was the day terrorists struck in New York and Washington. Her flight was cancelled and she had to return to Japan. While in Japan, Anyango attended the Kenyan traditional concert in Tokyo and the music at the concert changed her life. She later joined an African band called Burukenge and spent a year touring around Japan.
Her interest in African music led her to Kenya where she learned how to play the nyatiti under the instruction of the late nyatiti maestro, Okumu K'Orengo, from the village of Karapul near Lake Victoria.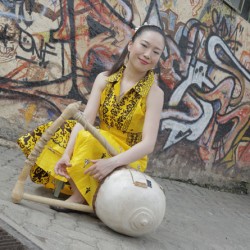 Leo Mkanyia Records At Ketebul Music
In the month of May 2015 during his East African tour, I was lucky to catch Dar es Salam's Leo Makinya in between sessions for a new song off his yet to be titled album he was recording at Ketebul Music Studios and the busy artist was able to grant me an interview. The self-professed Swahili Blues singer spoke to me more about the sounds that shape his music and the album he is working on.

At what point in your life were you sure that you wanted to do music as a career?
I was playing with a guitar like a toy when I was a child, watching as my father and his friends played and I grew up thinking every human being could play the guitar. As I got older, I realized this was not the case when I asked some friends if they could play the guitar and they responded no. It's easy, I said. Yet not everyone could play. I would later take the art professionally.
Why do you call your music Swahili blues?
I call it Swahili blues because it's a mixture of Swahili songs with blues elements. I came up with this genre after I found out the music from Tanzania is purely typically blues but no one calls it that. The way we sing and the way we play our local instruments sound very much like blues so I decided to name it that as I compose my music in Kiswahili language and adopt the styles and rhythms from my tribe back home in Tanzania and use them on guitar chords. This is how my music sounds the way it sounds: jazzy and bluesy.
Why did you choose to work with Ketebul Music over any other label? How did the whole Ketebul Music collaboration come about? How did you meet each other?
Well Ketebul understands my music deeply and what I'm doing (laughs). When I met them they understood me well and gave me this opportunity to produce and record my CD here. So I thought, that's a beautiful opportunity! Let me use it since I don't get to record much back home in Dar es Saalam.
I first came to Nairobi in December of 2014 and I visited Ketebul Music with my music on a flash disk. I met the director of Ketebul Music, Mr. Tabu Osusa and introduced myself to him. I asked him if he'd listen to my music, which he did, and he liked it and he said: ''the music is good''. We did interviews around and we did one recording at Ketebul Music. I then left and returned home to Dar es Salaam. I later got booked for Sauti Za Busara in Zanzibar and some events in Nairobi and also in Ethiopia. After all these concerts I got the opportunity to record here (Ketebul Music Studios) so that's what happened.
What are your expectations for this album?
This album from my point of view is going to introduce Swahili Blues to the world.

Taking into consideration that you're recording this album in Nairobi and not in Dar es Salaam, do you think the influences on your sound may affect your fans back home?
There are many influences; Kenyan, Ethiopian, Tanzanian, my mum's tribe and my dad's tribe. So it's like a mixture of all these because that's the life that I'm living. This CD is a representation of my life. In some songs I'm talking about Ethiopia and I even add some Ahmaric just to spice it up and make it more interesting and not rigid. The influences are definitely there in a very positive way.
You mentioned Addis and other East African cities in your songs, what inspires you to write these songs?
Mainly it's due to the short periods I've been living in these big cities in East Africa. I had such a great time in Addis Ababa with some artists from there, despite the fact that I didn't speak the language. That was my first time there: I picked up on some terminology and even had a few lessons in Ahmaric and tried introducing such words in the songs. I did the same in Nairobi. So there's a love song where I sing: "I came with my lover from Zanzibar."
And you left her for another woman in Nairobi?
No no no (chuckles). My lover from Zanzibar got lost in Nairobi. The wakora took her away. She got lost on Ngara Road. The wakora took her away to Dandorah. I use the word salaam which stands for 'peace.' Dar es Salaam Mombassa salaam, Nairobi salaam, so I'm trying to promote my cities and invite people to visit these places because you never know where these songs will be played and may attract someone to visit.

What are some of the topics you touch on with your songs?
The songs touch on every aspect of society. I have a song about Africa and bad leadership; there are songs about unity and promoting the youth to be together, repatriation to build nations back home in Africa; in some songs I'm talking about female genital mutilation and so on, so it's filled with matters that affect the society and love is one of them.
My View
Leo Makinya is a very down to earth person and well grounded in the roots of his homeland and his traditional vibes. I had the privilege of listening to some of the songs he's recording at Ketebul Music, and I would describe his sound as African pop meets traditional Tanzanian rhythms such as Segere. This storyteller weaves his stories poetically, expressing his 'blues' for the ills in our society. For example, in one song he dwells on the tumult of Africa and his love for the environment. The anti poaching song describing the plight of elephants in eastern Africa where they are hunted for commercial use of ivory.
The songs are recorded with live instrumentation played by some of the top session musicians in Nairobi. Leo employs a call and response style of singing on some of the songs, which is typical in most African traditional styles. His voice is very smooth and is complemented well by the musical arrangements, which sound, funky, mellow with very rhythmic grooves yet still very danceable.
Leo has good chemistry with the people involved in the project and is doing a lot of experimentation and collaborations on this album. He has featured artistes from the Ketebul Music stable like Makadem, Winyo, Akuku Danger and has also recorded a duet with Nyota Ndogo.
This album promises to be a must have collection, and I'll urge you to be on the look out for it!
Written by
Delasi Nunana
For Ketebul Music