Happy New Year & A Prosperous 2012!
Ketebul Music would like to welcome back all our friends, partners, clients and fans as we reopen our doors today.
We hope you all had a wonderful festive season break and are in good health ready to take on this new year.
We pray that this new year will bring prosperity to you all.
Stay tuned for more exciting projects and news from Ketebul Music. We have a lot of great projects and releases lined up for this year, and we are looking forward to sharing them with you!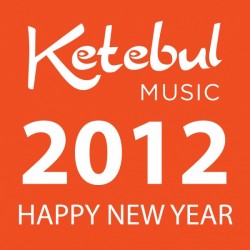 Makadem on TV 2 GO /Morgen-Tv
On 28th of October, Makadem was in the studios of Danish National TV Station TV 2 GO/Morgen TV.
Together with his band, Makadem performed DHI NDALO, a song from his current album OHANGLAMAN and was backed up by Soweto Kinch, Carl Winther, Yohan Ramon and Yuliesky Guerra Gonzalez.
Featured photo by Derek Ruttan, London Free Press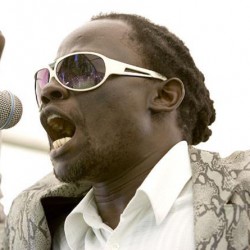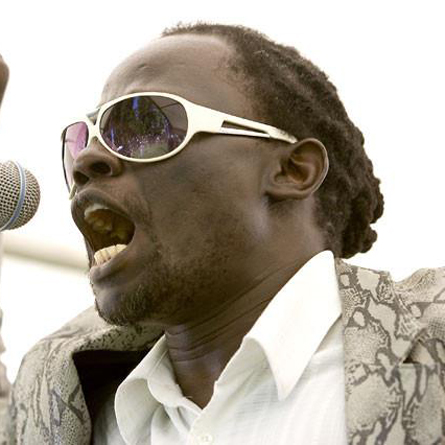 Makadem,Seun Kuti & Egypt 80, Soweto Kinch
By Nyakenya
Makadem, The Ohanglaman, one of the most exciting musicians and performers from Kenya,opened the stage for the great Nigerian musician Oluseun Anikulapo Kuti,better known as Seun Kuti, son to the legendary Afro Beat pioneer Fela Kuti.

This was a great opportunity and honour for Makadem who has been likened to the great Fela Kuti himself, owing to his energy and  stage presence. This was the sixth performance on Makadem's One World Scandinavian tour which began on the 20th of October and will be coming to a close on the 19th of November 2011.
Also joining makadem on stage was Soweto Kinch, a renowned British alto saxophonist and rapper.
For more information on this and other shows on the tour CLICK HERE.
Featured photo by Paulo da Costa. To see more photos of Makadem by Paulo da Costa CLICK HERE.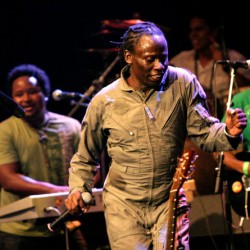 Gargar on Tour – Day 06: Mon 19 Sept 2011
St. Patrick's Hotel, Bulawayo
After breakfast, Gilmore picked Toby and I and we went over to the AF Bulawayo offices. We both wanted to catch up on some mail.
Fabien came by with some worrying news. According to our itinerary, we were meant to leave Bulawayo on Tuesday afternoon by bus to arrive in Johannesburg on Wednesday morning. But due to some miscommunication, we were not being expected in Johannesburg before Thursday morning.
This meant we could not depart Bulawayo on Wednesday afternoon to arrive Joburg on Thursday morning. This presented a whole new set of problems: were supposed to check out of St. Patrick's Hotel Bulawayo on Tuesday morning, and the bus we were booked into for the road trip to Joburg was only available on Tuesdays and Sundays.
In short, Fabien had to find us a place to sleep on Tuesday evening and a bus to Joburg on Wednesday afternoon! He was clearly stressed, but he promised to have it sorted out. He suggested we all spent Wednesday night at his place. I was skeptical when he suggested we share beds and I told him that won't be possible. We could share rooms but not beds. Fabien assured me he would find enough beds so that no one would have to share a bed. All the same, I had a talk with the guys to prepare them psychologically just in case Fabien wasn't able tofind enough beds for everyone.
Rainbow Hotel, Bulawayo
After lunch at Papa's, we took the short walk to Rainbow Hotel, the venue for the nights show, for set up and sound check. The sound crew was the same from the Hillside Dams gig. They hadn't finished setting up, so once again we sent the ladies back to the hotel and then went off for a walk in town as the crew finished setting up.
We came back to the venue an hour at 5.00pm later to find them running a line check. Half an hour later they were done and we did a quick sound check and headed back to the hotel to rest before the show that evening.
Rainbow Hotel, Bulawayo – Intwasa Festival Opening Ceremony
We were back at the Rainbow Hotel at half seven (7.30pm). The other act of the day, Rainbow Marimba Group, was still on stage winding up on their set. They were a pretty impressive group, playing popular tunes only on the marimbas.
The ladies, who had been taken to their dressing room by Gilmore as soon as we got there, came over to the hall dressed in some very intricate red costumes that had everyone gasping. I could hear murmurs from the audience as they pointed at Gargar, clearly impressed by their look.
We had planned the show a little different this evening. We would break into two sets of 4 songs each. After the first set, Rainbow Marimba would come back for their second set followed by Gargar for their second set.
Luli was on fire this evening. She took to the dance floor from the first song, walking into the audience calling on them to join her on the dance floor. There was a large attendance by campus students who danced all through the set.
For their second set, Gargar changed their clothes and came on stage dressed in traditional Islamic black dresses called 'buibui.' Once again they worked the audience into a frenzy especially with their last song, the funk oriented Sar, which had so far been the audience's favorite in all the shows. The standing ovation from the audience when Gargar stepped off stage was very touching, and Luli was clearly moved by the feeling of appreciation.
St Patrick's Hotel, Bulawayo
The same cycle repeated itself back at the hotel after the show, everyone else went off to bed, while Shady, Erico, and I whiled away the hours watching TV and drinking beer supplied to us courtesy of Fabien.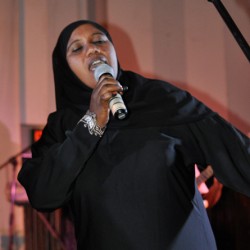 Makadem Opening for Seun Kuti & Egypt 80
Ketebul Music artist Makadem, travels to Europe today for his autumn One World-Scandinavian tour that will see him perform at venues in Denmark & Sweden. The highlight of this extensive one month tour will be opening for Seun Kuti & Egypt 80 in Copenhagen, Denmark on the 28th of October.
Seun Kuti is the youngest son of legendary Nigerian afro beat pioneer Fela Kuti. Seun is backed by his father's former band, Egypt 80, which consists of musicians that not only played with Fela, but were often arrested and harassed alongside the founder of the Afrobeat movement.
Makadem, renowned for his electrifying performances and high energy on stage, is also set to perform at the 2011 edition of Word Music Expo (WOMEX), backed by his 4 piece band.
Makadem who plays the guitar, kayamba, and kalimba, will perform songs such as Kisumu Bound Bus and Nyar Nairobi City from his debut CD 'Ohanglaman.'
For information on this tour follow Makadem on: Makadem on Tour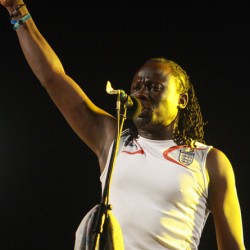 Gargar on Tour – Day 05: Sun 18 Sept 2011
Bulawayo
St. Patrick's Hotel, Bulawayo
The following morning, Fabien showed up at the hotel just after breakfast. He asked me to accompany him to Hillside Dams and go over the technical details with the sound crew.
Hillside Dams, Bulawayo
The Hillside Dams was a very scenic set in the more affluent side of Bulawayo. It was a park with a dam in it and the stage was overlooking an amphitheatre curved out in the rocks.
The sound crew had followed my technical rider to the letter, including monitors and how they were configured and they also included side fills. Very impressive.

Fabien was concerned that everything was to our satisfaction before he took me back to the hotel. This was going to be a family show and was set for 4pm that afternoon.
Papa's Restaurant, Bulawayo
Gilmore came by later at 12.30pm or half twelve as they say in Zimbabwe, and took us to Papa's for lunch. Papa's was a nice diner, which reminded me a lot of restaurants in Stone Town Zanzibar: it had an Arab-Swahili look about it.
As we had lunch, which ranged from sadza (Zimbzbwe's version of East Africa's ugali), rice, chips and a range of curries, Gilmore and I went over plans for the rest of the day. We were already short on time seeing as we had to have lunch, go back to the hotel for our gear, go to Hillside Dams for sound check, then back to the hotel for dressing up and finally back to the Dams fro the gig, all in a space of 3hours.
We came up with the perfect solution: after lunch, we would all go back to the hotel where the guys will all get ready and pick up their gear and head off to Hillside Dams for set up, sound check, and the show in the afternoon. The ladies would be left behind at the hotel where they would clean up and get dressed for the show. The guys will be dropped off at the Dams and the ladies would be picked up an hour later when everything was ready for the show.
Hillside Dams, Bulawayo – Showtime
Even though we tried our best and had everything ready as fast as we could, we were an hour late to start the show at 5.00pm.
The turnout was around 120 people, which according to Gilmore wasn't bad for a 'Makiwa' (the Ndebele slang for white folks) audience.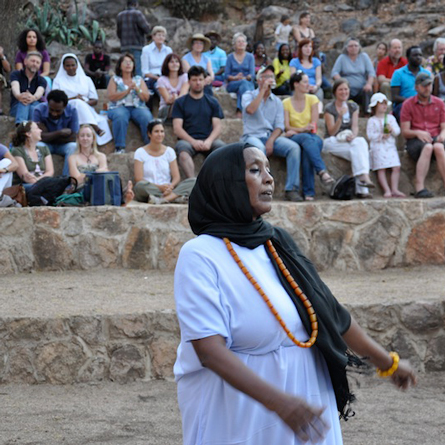 As always, Gargar gave a stellar performance and had everyone up on their feet dancing with them at their last number.
After the show, people flocked at the backstage area clamoring for pictures with the ladies who were by now getting used to all the attention they were drawing and were happy to oblige.
Frustration creeped in amongst the ranks later when we had to wait for an hour for our transportation back to the hotel. Gilmore was at pains to explain the delay was because they had approximated the show would end much later than it did, thus they had asked the driver to come by an hour later. We tried our best to while away the time swapping stories and jokes with the ladies who had by now fully opened up to us.
Papa's Restaurant, Bulawayo
We went straight from Hillside Dams to Papa's for diner. We didn't have long to wait for our food as we had placed our orders for diner over lunch.
St. Patrick's Hotel, Bulawayo
Back at the hotel after diner, everyone else apart from Gilmore, Shady, Erico and I opted to retire for the night. It was pretty obvious now that Erico, Shady and I were the outgoing ones in the bunch. Gilmore told us there might be a nightspot or two worth visiting for a drink that night, and we were only too glad to go for the excursion.
St. Patrick's Hotel, Bulawayo
Back at the hotel after diner, everyone else apart from Gilmore, Shady, Erico and I opted to retire for the night. It was pretty obvious now that Erico, Shady and I were the outgoing ones in the bunch. Gilmore told us there might be a nightspot or two worth visiting for a drink that night, and we were only too glad to go for the excursion.
Ayoba, Bulawayo by Night
We took a short walk into Bulawayo CBD to a place called Ayoba where we met one of the memorable characters of this tour. Babongile was Gilmore's friend and the owner of Ayoba, one hell of a crazy dude. He immediately made it his duty to entertain us, his Kenyan 'brothers' as he introduced as to all his friends.
We knew we were in for a long night when Babongile said, "… you guys are drinking too slowly, you better catch up coz I buy fast!"
A few drinks down the line and Babongile suggested we go to another club that he runs in the other side of town. A few drinks later at the spot and we were all finally giving in to sleep. We finally gave in to the weariness and called it a night.