Winyo Shortlisted For Rolex Mentor & Protégé Arts Initiative
By Stefano
We are proud to announce that our very own Winyo has been shortlisted as one of the four finalists for the Rolex Mentor & Protégé Arts Initiative!

The Rolex Mentor and Protégé Arts Initiative is an international philanthropic programme created to assist extraordinary, rising artists to achieve their full potential. It seeks out these artists from around the world and brings them together with great masters, for a year of creative collaboration in a one-to-one mentoring relationship(extracted from www.rolexmentorprotege.com).
Winyo was invited to apply for the programme by the Initiative's Selection Committee and went on to be shortlisted as one of the four finalists in the music category of the Initiative.
If selected, Winyo will benefit from a year of mentoring,starting June 2012, from legendary Brazillian singer, guitarist and songwriter, Gilberto Gil.
Gilberto Gil is known for both his musical innovation and political commitment. From 2003 to 2008, he served as Brazil's Minister of Culture in the administration of President Luiz Inácio Lula da Silva. Gil's musical style incorporates an eclectic range of influences, including Rock music, Brazilian genres including samba, African music, and reggae (extracted from wikipedia). Gilberto Gil also has 7 Grammy Awards to his name including Best Contemporary World Music Album in 1999 and 2005 for his albums' Quanta Live' and 'Eletracústico' respectively. He also holds two Latin Awards Grammies for Best Brazillian Roots Album for 2001 and 2002.

Previuos mentors and protégés in the music cartegory of the initiative include Brian Eno (mentor) and Ben Frost (protégé) 2010/2011, and recently Youssour N'Dour (mentor) and Aurelio Martinez (protégé).
Winyo is set to travel to Rio Dejaneiro in Brazil for a face to face meeting with Gilberto Gil. Mr Gil will then select his protege out off the four finalists.
Many of you might remember Winyo has twice been selected for the Radio France International Discoveries programme of 2010 and 2011. He went on to be the first runners up in 2010.

We take this chance to congratulate Winyo for first being selected and invited to apply for the mentorship programme, and on making it to the shortlist.
All the best in your meeting with Mr. Gil.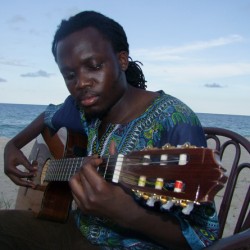 Makadem In Paris
By Nyakenya
Contributions by Stefano
Today marks the 3rd week since Makadem went for his kalimba and guitar residency in Paris, under the Atelier du Monde programme of the Institut Francais. The Ohanglaman (soon to be Kalimbaman) reports that he is already knee deep in class and the groove is on!

Makadem started his first sessions with the Angolan Kalimba maestro Lulendo Mvulu and Togolese guitar virtuoso Amen Viana (www.reverbnation.com/amenviana) on 16th of March. He was, in his own words, blown away by the skills possesed by his 2 mentors and their generosity and willingness to share with him their time and talents.

Makadem is glad not to be alone in the residency programme. Fellow musicians also in Paris for the residency with Makadem are Allis Naaba (www.myspace.com/alifnaaba) from Burkina Fasa and Naby (www.myspace.com/demrek) from Senegal, both of whom he describes as gifted and inspirational.

The Ohanglaman who for the duration of his residency is residing at Cite des Arts in Paris, also took some time off for sight seeing like most tourists would do. The streets of Paris are sure to provide inspiration to Makadem for future compositions.

In true Kenyan style, Makadem was sure not to forget the essentials during his travel. Apart from his guitar and kalimba, the Ohanglaman carried with him his survival kit..!

We wish Makadem all the best and we hope he aquires as much knowledge as possible. We are looking forward to sharing the experience with him when he gets back home.
Message from Ketebul Music to Makadem, "Come back with a new kalimba. The better for you to practice your newly acquired skills on..!"

For more pictures and daily updates from The Ohanglaman himself, follow Makadem on facebook by CLICKING HERE
Featured Pictures courtesy of Makadem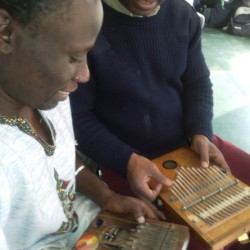 Andy Brown: Fare Thee Well True Son Of Africa
By Priscah Nyakenya
On Friday 16th of March 2012, Africa lost one of it's great musical talents on the passing of Andy Brown.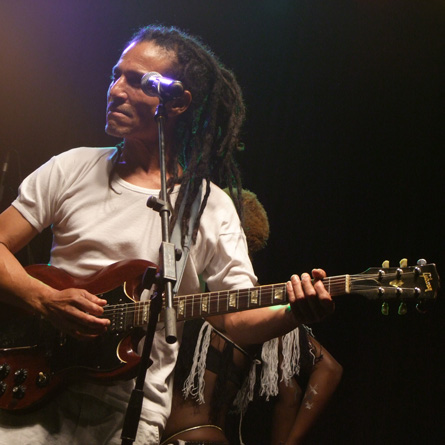 The Ketebul Music family would like to send our sincere and heartfelt condolences to Andy Brown's family,friends and fans, as we all come to terms with his passing.

Until his death, Andy Brown, also known as 'Mzukuru' among his fans, was a legendary Zimbabwean musician who has been performing around the globe and recording albums for over twenty six years.
Andy Brown visited Ketebul Music Studios on the 12th of November 2011 during his recent visit to Kenya where he performed alongside his sister, the songstress Queen Mashie at her album launch. During his studio visit, Andy took some time to record and lay down material for a song.  It's a day the Ketebul Team will always remember.

Fare thee well Andy Brown. You remain a true son of Africa. Your Great music will live on forever.
Featured photo by Steenie Njoroge
SInging Wells Project – Rift Valley/ Trans Nzoia Chapter
By Stefano Sita Nne
It's that time again!
Once again we are heading out to another Singing Wells excursion, this time to Rift Valley and Trans Nzoia.
Together with our partners Abubilla Music (www.abubillamusic.com), we will spend a total of 6 days in the field recording music of the Kalenjin.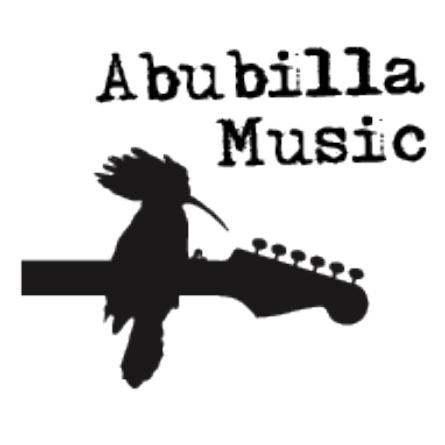 The Kalenjin community belongs to the Nilotic ethnic group. These highland Nilotes include eight culturally and linguistically related groups or tribes, namely Kipsigis, Nandi, Tugen, Marakwet, Keiyo, Pokot, Sabaot and Terik. The Kalenjin languages spoken by these groups include the Keyo (Keiyo), Cherangany, Tugen, Nandi and Kipsigis (Kipsikiis, Kipsikis) languages (excerpt from www.kenya-information-guide.com).
The SWP Rift Valley chapter kicked off on the 2nd of March with the arrival of Jimmy, Kathy and Hunter from London. Kathy joins us for the first time as an observer from the Abubilla Music Foundation, who have been supporting the Singing WElls Project from it's inception. Hunter is also a new member to the SWP team, and he joins our video section as Camera Op 03.
Also new to the project is guitarist extraodimaire Eddie Grey. Eddie who justy recently released his sophomore album titled Stories by The Lake, will feature as the influences artist.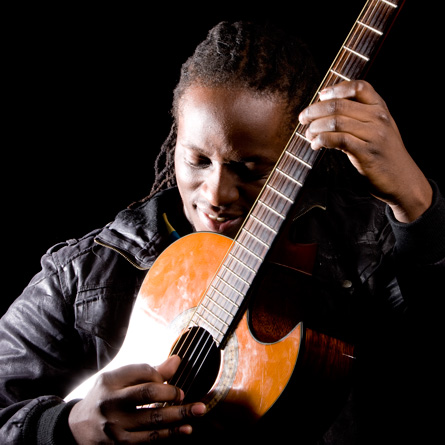 THe itinerary for this trip wil see us ariving in Kitale on the 4th of March. With Kitale as the Hq for the first 2days, we will travel to Mt Elgon and Kapenguria focusing on the Sabaot and the Pokot.
On the 7th of March we will head out to Iten and Kapsowar to record the Marakwet and the Keiyo with Eldoret as our Hq.
The 8th of March, our final day of recording, will see us travel to Baringo to record the music of the Tugen, before finally heading back to Nairobi on the 9th of March.
This won't be the end of the project just yet. During the excursion, we will identify singers and performers from the regions visited and bring them back with us to Ketebul Music studios in Nairobi. We will record these artists for our influences sessions over the weekend of the 10th and 11th.
Stay tuned for more updates on the SWP Rift Valley/ Trans Nzoia Chapter. You can also visit FIELD REPORTS on Singing Wells websites for more updates, videos and soundbites from the field.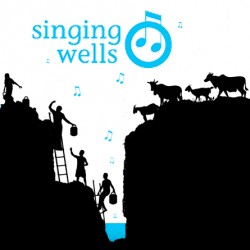 Ogoya Nengo: Sauti za Busara 2012 Summary
By Stefano Sita Nne
After a week of rehearsal at Alliance Francaise with her 8 piece band, Ogoya Nengo finally jetted into Zanzibar on the 9th of February. Despite the high temperatures that they were not accustomed to, the group was in high spirits rearing to get on stage and give a dose of Dodo and Ohangla Music.
The following morning, the group which comprised of Ogoya Nengo on lead vocals, Olith Ratego, Margaret Ondiege Asin and Wilfrida Anyango on support vocals, Joseph Oloo aka Maumbo on ohangla, Boaz Aketch on Orutu, George Achieng' on drums, Tobias Onyango on traditional drums and Joseph Ojung'a on the oporo (horn), were up bright and early and ready for their scheduled soundcheck at Ngome Kongwe (the Old Fort) in Stonetown, the venue of Sauti za Busara Festival 2012.
Fast forward to showtime later that evening at 8.20pm, Ogoya Nengo's powerful vocals reverberated accross the fort's walls, to the delight and applause from the crowd after each and every song.

At one point, Camirata Group from Northern Sudan who had peformed the previous night, were so impressed by Ogoya Nengo's performance that they jumped on stage and danced along with Ogoya Nengo.
At the end of her set, Ogoya walked off the stage to another roar of applause from the audience.

Ogoya Nengo had a day to explore and discover Zanzibar before taking her flight back to Nairobi on the 12th of February.
Featured photos courtesy Ketebul Music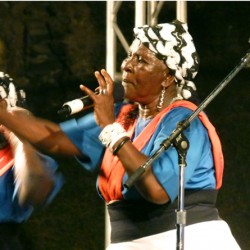 Ogoya Nengo For Sauti za Busara Festival
By Stefano
Ogoya Nengo, the matriach of Ketebul Music will be gracing the stage at Ngome Kongwe in Stone Town, Zanzibar during the Sauti za Busara Festival.
Ogoya who is no stranger to performing at international stages will be taking the stage on the 10th of February accompanied by her long time collaborators Margaret Asin, Wilfrida Owit and Olith Ratego and a 6piece band which will include famed kenge Kenge orutu player, George Achieng' and Ohangla drum maestro Maumbo.

She will perform and showcase music from her debut studio CD titled Matatu, which features songs done in the dodo style from the lake region of Kenya.
You can catch up with Ogoya and her band on the 10th of February from 8.20pm.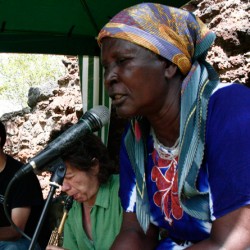 Mulatu Astatke: Ethio-Kenyan Fusion @ Ketebul Music
By Stefano Sita Nne
The past week proved to be an event filled one for us at Ketebul Music. We had the pleasure and honor to host one of Africa's living music legends: Mulatu Astatke.
Mulatu Astatke is an Ethiopian jazz musician, who is credited as being the father and founder of Ethio – Jazz. He was the first African to be admitted to Berkley College of Music. In the early 1970s, Astatke brought his new sound, which he called Ethio-jazz, back to his homeland. while continuing to work in the US. He collaborated with many notable artists in both countries, arranging and playing on recordings by Mahmoud Ahmed, and appearing as a special guest with Duke Ellington and his band during a tour of Ethiopia in 1973 (Quoted from Wikipedia).
Following a meeting with Ketebul Music's Executive Director, Tabu Osusa in Johannesburg late last year, Mulatu visited Ketebul Music studios last week and spent time recording material for his upcoming project.
Mulatu spent the time recording and arranging music with the latest addition to the Ketebul Music family, Eddie Grey. This was a collaborative effort where one of the songs with the working title, 'Ethio Kenyan Fusion' also featuring Rapasa on Nyatiti and Rashid Jibril on percussions, with the maestro himself on the piano, and Eddie Grey on the guitar.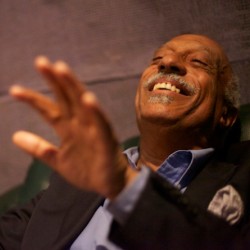 Makadem For Music Residency In Paris, France
It seems like globe trotting will again be the order of the day for Ketebul Music artist Makadem. The Ohanglaman will soon be packing his bags as he takes off for a 3 month music residency in Paris, France.
Supported by the Institut Francais under the Ateliers du Monde programme, Makadem was selected for the residency programme which will see him study under internationally reknown kalimba maestro, Lolendo Mvulu, with the intention of improving his kalimba playing skills.
Makadem who spent the better part of last year in Europe, will also use his time in Paris interacting with other musicians like the critically acclaimed Congolese guitarist Syrian M'Benza.known for his collaborations with the likes of Sam Mangwana, Vicky Longomba and Nyboma to name but a few. Syrian M'Benza is widely acknowledged as one of Africa's finest and most accomplished guitarists (quoted from African Musician's Profiles).

We at Ketebul Music extend our gratitude to Institut Francais for giving Makadem this opportunity.
Featured photo ©Paulo da Costa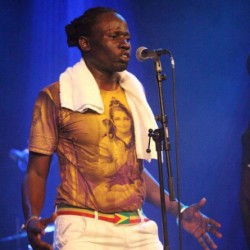 Retracing Kenya's Funky Hits Released
Retracing Kenya's Funky Hits has finaly been released! This third edition from Ketebul Music's retracing series, is a research based documentary on the influence that American funkl and soul had on the Kenya'n pop culture of the 70s and 80s.
Compiled over a period of one and a half years, Retracing Kenya's Funky Hits is packaged as a narrative booklet, an audio CD compilation of 15 Kenyan funk numbers from Slim Ali, Kelly Brown, Steele Beauttah, Sal Davies,Ismael Jingo, Feisal Brown, the Ashantis, The Mighty Cavaliers, The Hodi Boys, Black Savage and Air Fiesta Matata, and a DVD.

For details on where to get your copy, call us on
0720 561 198
Featured photo: Air Fiesta Matata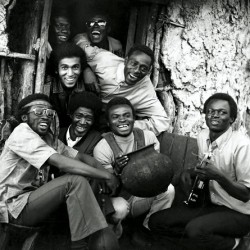 Happy New Year & A Prosperous 2012!
Ketebul Music would like to welcome back all our friends, partners, clients and fans as we reopen our doors today.
We hope you all had a wonderful festive season break and are in good health ready to take on this new year.
We pray that this new year will bring prosperity to you all.
Stay tuned for more exciting projects and news from Ketebul Music. We have a lot of great projects and releases lined up for this year, and we are looking forward to sharing them with you!